– By Maciek Klimowicz –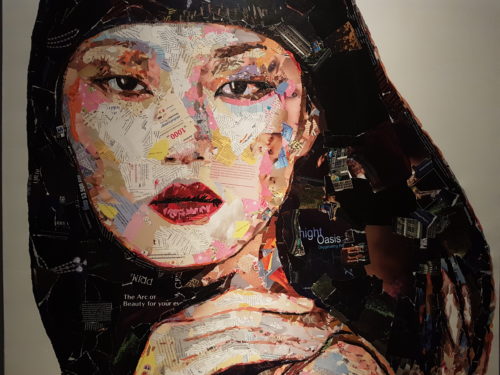 Virut Panchabuse's studio's walls are covered with art. His art. Pieces come in a variety of styles, representing different periods of his creative evolution. Their sheer number tells a tale of an artist overflowing with creativity, but as many as there are, that's not even the whole story. In fact, what Virut keeps in his Bangkok atelier, are the pieces he thinks not worthy of sharing with the broader public.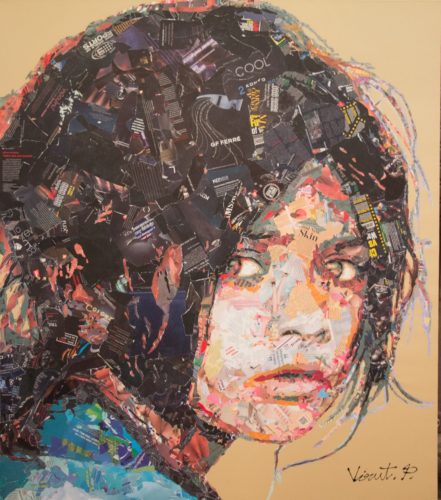 "Many of my images never leave my studio," he tells me. "For now, I focus on faces because I don't feel confident with the whole human body yet. I practice a lot and managed to finish only three or four that I'm satisfied with," he adds.
Some of his many pieces are left hanging in the studio, numerous were lost in the 2011 great Bangkok flood, the rest ends up in Virut's shop in Bangkok's ever busy Chatuchak Weekend Market, where he has been residing for the last 10 years. How did he manage to get so much experience when he is just 36 years old? He had an early start.
Virut Panchabuse started studying art at the College of High Art in Bangkok and continued his artistic education at the capital's King Mongkut University. And even though his first post-graduation job was an office one, he never stopped painting. This persistence and hard work paid off – buyers started appreciating his efforts and he soon became a full time artist.
What's interesting is how different those first pieces are, the ones that brought him initial success, from his current style. Light and delicate, limited in colour and brush strokes and nothing like those powerful, intense collages he's known for today. Having found a successful formula, many artists would have stuck with it, trying to recreate it over and over again. But with Virut, the opposite happened. "My style changed when I started selling paintings," he says "I saw other artists getting inspiration from my style and I felt that what was initially original, wasn't such anymore. So I decided to make a change."
After a period of experimentation with pop culture themes, he settled on a technique completely new to him – collage. The reasons he opted for this particular method say a lot about what kind of artist he is and what his priorities are "I just felt it is harder and more challenging," he says. "And it cannot be copied."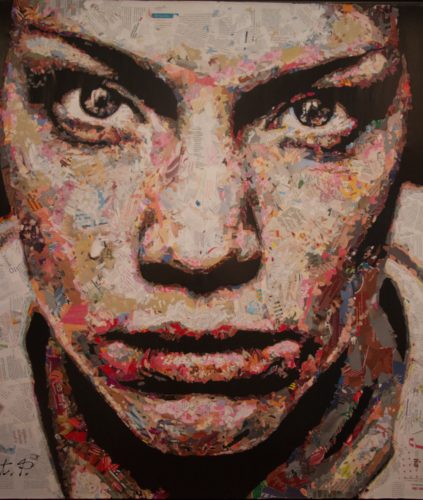 Today he begins his creative process online, where he scans through thousands and thousands of images we all are bombarded with every day. However he is not looking for faces that are beautiful nor famous, what he is searching for are emotions. "I believe this is what's important in art – emotions. So I just look for images that evoke emotions, once I find them, I start sketching."
How quickly he can manage to turn a photograph that catches his eye into an eye-popping collage depends very much on… luck. If he finds necessary raw materials quickly, it can be ready in a few days, but it might also take a whole month. That's because the patches of colour and texture he uses to compose his collages come from piles of old colourful magazines he keeps at home and buys at second hand shops. "It's easier when you use paint and mix colours on a palette, you have control over colour and time. But with collages, it's more complicated," he explains. "Sometimes it takes me a very long time to find the right colour in the magazines that I flip through."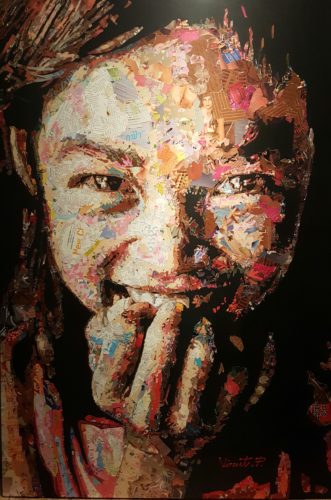 And he has to flip through hundreds, even thousands of magazines in order to find what he is looking for – a lengthy and tedious process. But in those two years since he started experimenting with collage technique, he learned a lot. First, he stopped noticing the contents of the magazines, and now perceives them solely as a source of intense colours and textures.  Secondly, he discovered which publications tend to be the best source of quality material, "I use a lot of porn mags because I can find a lot of smooth, nicely coloured skin there. Fashion magazines work fine as well," he explains.
Whatever the source material though, the final product of Virut's efforts are very distant from the master copies. Tiny scraps of colourful paper are meticulously layered one next to the other to produce a large seize portrait – each different, each unique but all full of emotions. The original image disappears but the feeling remains. "I just borrow the mood of the photographs," says Virut.
And just as his first, minimalistic paintings, those massive collages are a hit amongst art collectors. Virut's pieces hang on walls of art galleries and private homes around the globe, from Netherlands to US, from France to Hong Kong, China, India, Malaysia… the list goes on. And having his art in all those places, admired by so many people, grant's Virut his main wish as an artist – immortality.  "When I die, my art will not die with me. This will be success for me."
Comments