– By Maciek Klimowicz –
It's messy yet clean, traditional but with a futuristic vibe, spontaneous yet still precise – the art of Danny O'Connor is like the philosophy of Yin and Yang, presented in vibrant colours.
Take a look at one of O'Connor's portraits and what you'll see is chaos – splashes of colour, randomness of lines, brush strokes that serve no purpose whatsoever… or do they? Take a closer look, let the image sink in, and before you know it, beauty starts showing. It's not that the image is hidden under this messy surface, it's integrated in it, rising up in all its screaming colour glory.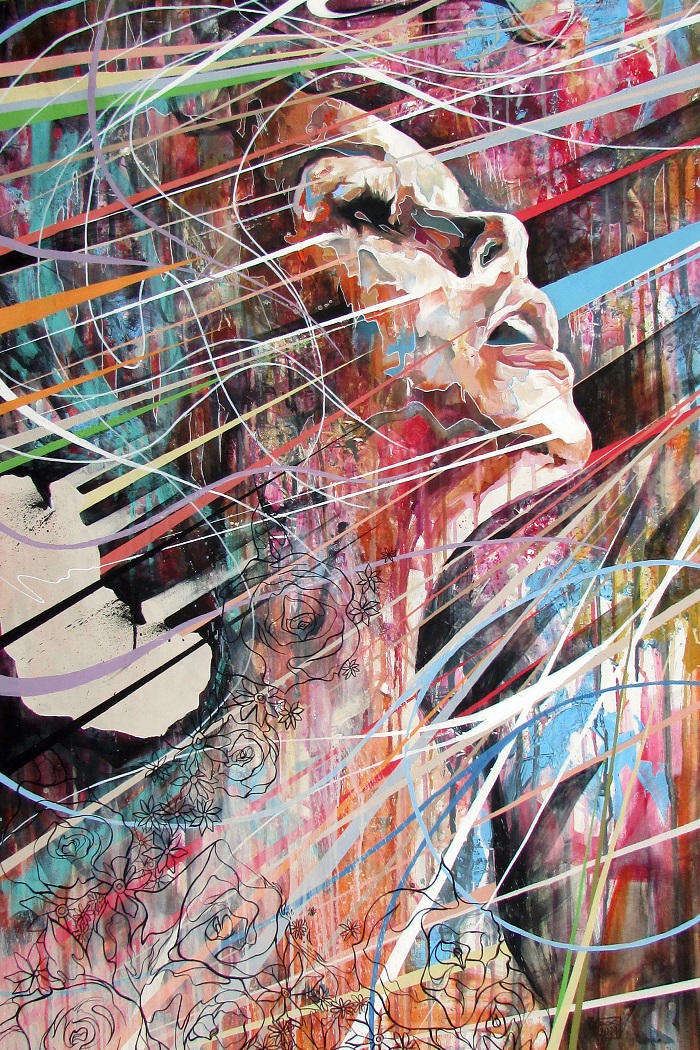 To bring his faces to life, Danny O'Connor, a 34 year old artist from Liverpool, uses a large variety of media including acrylics, spray paint, paint markers, charcoal, collage, ink, graphite… you name it. "I use pretty much anything I can get my hands on. I like that these materials allow me to work quickly, gradually building the work up layer upon layer, covering some areas and allowing others to peer through. This helps me give my work a sense of depth," he explains.
And this wide range of techniques can be very much present in any one of O'Connor's pieces. He might start working on a painting by throwing thinned down paint from a cup at the canvas and finish by laying down some fine lines for a final touch of perfection. "Usually I'll start by creating a background layer, painting in various areas of colour, tone and texture. This involves lots of splashing, spraying, drizzling and dripping of paint. The background then sets the tone for how the work will develop. Once the background layer has dried, I start to work on the subject over the top."
He himself describes the state of his mind when he's at work as "being in the zone" – like a sportsman about to become a champion, not thinking but using his instincts to react. "One brush mark will dictate where the next should go. And when things are going well, it's as if I'm moving to a rhythm, decisions don't require a huge deal of thought, they seem to come quite naturally,"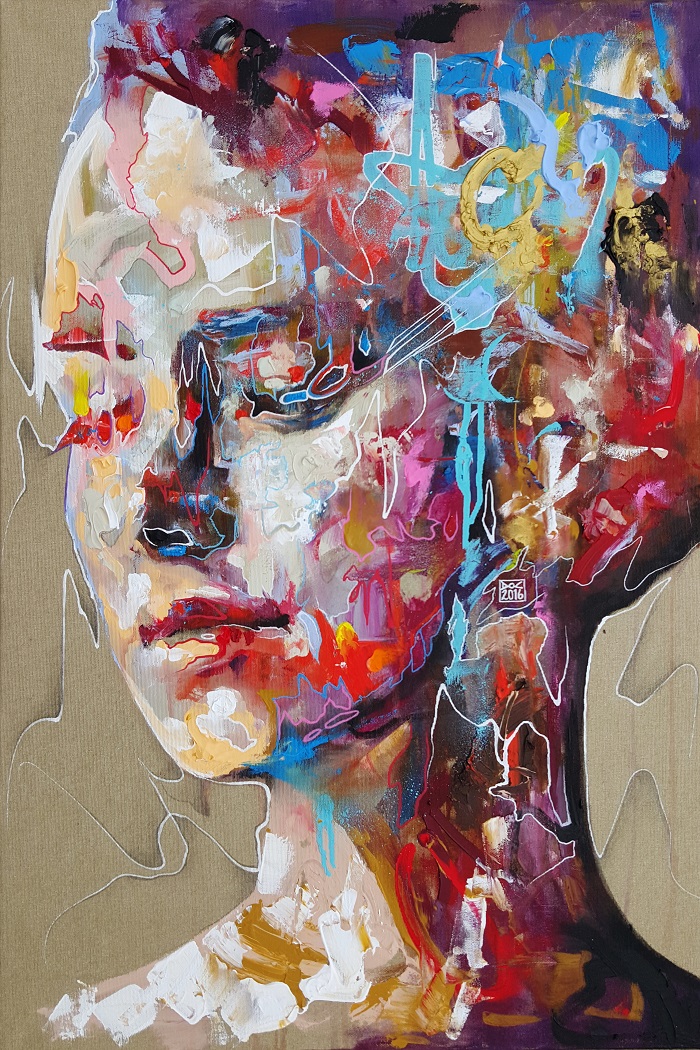 His images confirm every word – they have a sort of primal, atavistic feel to them that one would expect from a prehistoric cave-painting but his are very much modern, if not futuristic inclinations are apparent as well – his works wouldn't look out of place in a cyberpunk graphic novel. "I like the sense of contrast in my work and that is true also with regards to my influences. Anything from Digital Art and Graffiti to Abstract Expressionism and The Pre-Raphaelites are all fair game to me."
Maybe it's also this wide spectrum of inspirations that help O'Connor produce work that feels relevant to the times we live in? To the world he describes as a place both "energetic and fast paced, where the lines between the real and digital world are blurred"? Whatever the reason, his visual style is definitely attracting attention. His works have been part of a variety of exhibitions all over the world and they are also popular with private collectors – first and foremost in the US but not just there. "I've also painted murals for bars, restaurants and clubs as well as on the street. I like the idea that people who otherwise may not have seen my works, get to appreciate it as well. "
Street or gallery, private collection or public exhibition, wherever they are displayed, whatever technique he uses to create them, all O'Connors works have something in common – something more instinctual than intellectual. When asked about it, he comes with a simple answer.
"I paint from the heart and this is the most honest and truest way an artist can invoke emotions."
Comments