If there is one Thai street artist you have to  (and probably already) know, it's Alex Face. A while back, we featured a comprehensive interview with the author of some of Bangkok's and the country's most iconic murals, now we celebrate his updated profile to celebrate the opening his latest exhibition.
Patcharapol Tangruen, also known as Alex Face, is a well-known and influential graffiti artist in Thailand.
Alex studied architecture at Bangkok's King Mongkut Institute of Technology. His interest in architecture led him to explore and wander the streets and alleys of Bangkok for abandoned buildings. He eventually started using these buildings as a canvas for his street art through which he could express himself. Through his graffiti, Alex Face attempts to create a link with the urban population, the underprivileged of Bangkok and the provinces.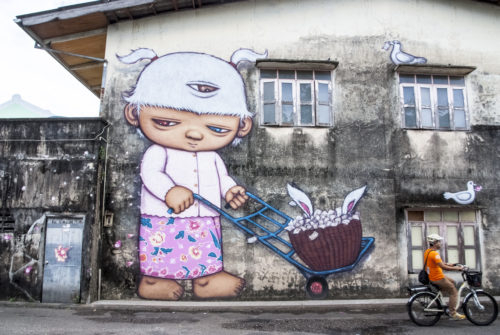 Since his breakout solo exhibition in Bangkok 2012, Alex Face's most iconic image: a character with an aged, disillusioned child's face wearing animal costumes, has taken the scene by storm. It has adorned urban walls of major cities; Bangkok, Jakarta, Tokyo, Seoul, Taipei, London, Copenhagen, Amsterdam and Berlin to name a few.
Four years later, Alex Face is back with his latest show, ALIVE, featuring more than 30 new artworks, including paintings, drawings as well as large-scale sculptures.
Exhibition: Alex Face's ALIVE exhibition
Opening Hour: Wednesday to Sunday– From 1:00pm to 7:00pm
Location: Bangkok City Gallery – 13/3 Sathorn 1 South Sathorn Rd. Thung Maha Mek Sathorn Bangkok 10120, Thailand
For more information: please contact +66(0)83 087 2725 or info@bangkokcitycity.com
Comments