Join us for an afternoon of inspiring talks, Holiday shopping, whole lot of mingle.
Miss Runner is a women's activewear label uniting performance activewear with original art creations. To welcome the start of this festive season, the brand is throwing a Holiday Shop & Mingle concept party to celebrate.
Miss Runner Holiday Social event will take place at The Hive, Wan Chai location next month, on 9 December, 2-5pm, and will feature an exclusive Holiday gift sets pop up and two fit sessions, a Vinyasa core yoga by Samantha from One Yoga Studio and a meditation session lead by Coco from MISSBISH for attendees to unwind.  The highlight of the event would be an inspirational panel session featuring five female entrepreneurs in Hong Kong's wellness community:
Dee Cheung – Founder of Float On Spa & SUP Yoga
Tania Cheung – Founder of Miss Runner
Sonalie Figueiras – Founder of Green Queen
Cristina Lopez Mclauchlan – Founder of The Vibe Tribe & Brand Manager of MANA! Cafe
Vivienne Tang – Founder of Destination Deluxe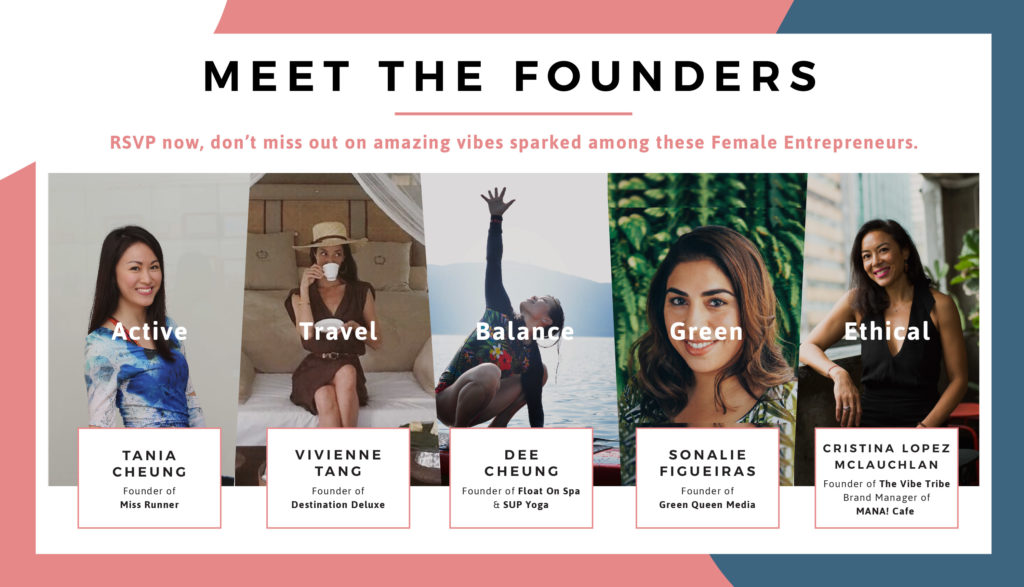 Each speaker represents a key element to the core of Wellness – the panel session can give all attendees a chance to get up close and personal with each founder's personal journey, insights on past and future wellness trends and more. Don't miss out for a chance to meet these inspirational founders and experience the amazing vibes sparked among them.
These will run alongside our charity partnership with Hong Kong Cat Society (香港群貓會) – in the Season of Giving – drop off and donate old PVC yoga mats at the event and receive 20% off a new eco-friendly mat from Miss Runner!  All PVC mats collected will be donated to the organisation to help build houses and litter boxes for kitties in need.
Full agenda of the day is enclosed below.  All participants who RSVP will be enrolled automatically to the lucky draw of the day – where 2 winners will be randomly selected to win home a Free 4-Class Plan from GuavaPass – the Perfect plan to kickstart all new year resolutions.  First 50 RSVP attendees will also be entitled to receive a goodie bag with over 10 wellness vendors' exclusive deals.
RSVP now via email: rsvp@missrunner.com
2-5pm:  Shop & Mingle your heart out with our Holiday gift set showcase!
Activities
1:50pm:  Vinyasa Core Flow with Samantha*
3:00pm:  Meet 5 Female Founders In Wellness Panel
4:00pm:  Q&A
4:20pm:  Meditate with Coco*
5:00pm:  Lucky Draw Winners Announced
*Yoga Mats will be provided on the day.
Class cap is limited – email rsvp@missrunner.com to save your spot.
Date:  December 9th, 2017 (Sat)
Time:  2 to 5pm
Venue:  The Hive @ Wan Chai – 21/F, 23 Luard Road
RSVP now via email: rsvp@missrunner.com
Comments