Asava's show at Bangkok International Fashion Week 2017 (March 25, 2017) was an otherworldly experience of clean and muted grace. From the white flowers encased in the glass installation, to the soft overhead lights that lit up the fluid-moving models, to the strings and alien-like electronic beats that anchored the soundtrack, Asava transported attendees to a world largely suspended in time. On a high level, the collection represented Asava at its best—timeless, refined, and immediately wearable.
Though the collection was mainly monochromatic, a contrast to the more colourful, print-heavy designs populating fashion week, this does not mean it was clinical or stiff. Each new design was a versatile variation of the same design elements: the same lines, straight cuts, and flowing fabrics could be worn on different parts of the body, in different ways and for different occasions.
There were mermaid evening gowns, some with bows that pulled in and emphasized the waist, and other gowns with soft cape collars that drew attention away from it; there were dresses with plunging V-necks, some with tented skirts, others with a slimmer bottom and a draping cape that blended into the snow white runway.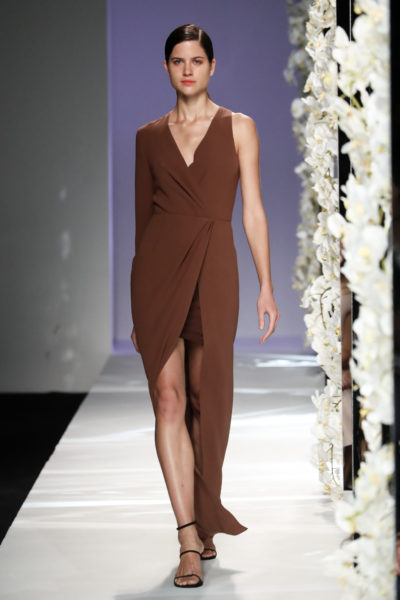 Asymmetry added new spins on classic designs: off-the-shoulder dresses lengthened into capes, sheath gowns had heavy collars that sloped under one shoulder like a beauty queen sash, and a jumpsuit with a cape collar suddenly became more unique when the model pivoted on the runway to show the bared shoulder on the other side. Pantsuits were also seen, though accompanied more by strapless, structured tops than the traditional blazer top.
The designs also flirted with showing skin: along with arms that poked out of cape sleeves, gowns also featured thigh-high slits that flashed the leg with each stride. Translucent, full-body capes also highlighted bare shoulders and waists.
It would be easy to say the collection is minimalist, but a closer look at the texture and monochromatic patterns of the designs will tell a much different story. Like one Asava fan remarked after the show, it takes a lot of skill to fit so many design elements into clothes and still make them look simple. That's the magic of Asava, and the reason why it's the go-to brand for timeless workplace and evening staples that are easy to dress up or down.
Words by Millie Ho (www.millieho.net)
Photos by Vincent Sung & Courtesy PR Siam Piwat
Produced by Le Flux Asia (www.lefluxasia.com)
Comments