NAGARA, the renowned Thai designer brand that has dressed Thai royalty and been showcased around the world, was the closing show on March 25, 2017 at BIFW2017. A veteran of the Thai fashion industry, NAGARA opened up the show in stunning fashion, with strobe lights, hair-raising hip hop/electronic fusion music, and an epic burst of red light that illuminated the crowd and signaled that it was time to take out the cameras and smartphones.
Typical of the brand, NAGARA channeled both Eastern and Western aesthetics in the new collection. Movement was everywhere: regal-looking models, wearing traditional gold and jeweled headpieces, marched down the runway in Thai silk that flew when whipped over their shoulders or spread out on either side of their torsos like wings. The clothing, loose-fitting, billowing, and with strong design contrasts (the hand-painted red, blue, green, and yellow Asian motifs stood out over a largely black and white base), were reminiscent of Japanese haori coats and Thai wrap pants, traditional styles that have since been adopted by modern times.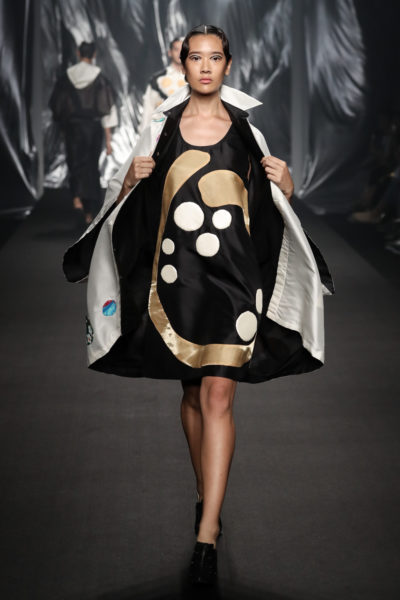 Golden, jewel-toned, and embroidered gowns draped down or hugged the body, referencing NAGARA's glorious designs for Thai royalty. A voluminous caped dress with a sequined green collar and intricately painted layers—almost like the dress was made entirely of ancient Asian masterpieces wrapped around the figure like a cocoon–stole the show. It also spoke volumes about NAGARA's dedication to custom-made and detailed pieces, and also the brand's love for exotic designs.
"I love NAGARA because the clothes allow me to stand out," said an attendee before the show. "The designs are more than just Thai culture—they have global influences."
Indeed, Nagara Sambandaraksa, the designer behind NAGARA, has travelled extensively throughout Asia and Europe, taking inspiration from countries like Japan, Paris, and Florence. His designs, mostly using Thai silk, with heavy Asian influences, have remained innovative and modern throughout the decades—a fact attributed to Nagara's many travels and openness to new ideas. He's also a supporter of younger designers in Bangkok, and embraces a philosophy of continuous experimentation and growth.
As the models circled the runway one last time, dressed in exquisitely layered silk and showing off laboriously painted designs, it's clear why NAGARA remains Thailand's most celebrated designer brand.
Words by Millie Ho (www.millieho.net)
Photos by Vincent Sung & Courtesy PR Siam Piwat
Produced by Le Flux Asia (www.lefluxasia.com)
Comments