– By Maciek Klimowicz –
Before you begin reading this story, grab your smartphone and open your favorite music streaming service, search for "Orinoco Flow (Sail Away)" by Enya and tap play. Now we are ready to sail away, sail away, sail away… Yes, three times, as we take you to three splendid yachting destinations in South-East Asia. All out! Full ahead!
Dubai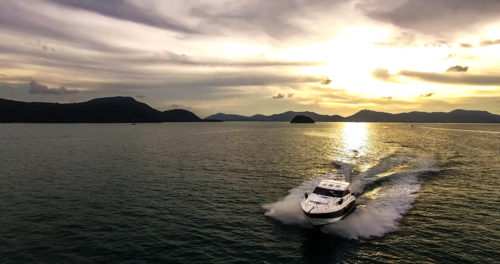 Welcome to an oasis. Dubai might be a desert city from a geographical point of view but it isn't one in any other sense. And except for the one thing that it is most famous for – shopping, it offers plenty of excitement, both on land and, what's more interesting for us – on water.
"Dubai is a relatively new yachting destination, especially if we compare it to other, well established location" says Bernard Bilardello, the president of Bristol Charter, a company which has been present in Dubai since 2004. But new also means exciting, and this is where Dubai delivers. Local hourly cruises might be some of the most fun in the world, allowing guests to take a break from the scorching heat on land and enjoy a spectacular cityscape from the azure waters of the Arabian Sea. And while simply cruising along the Jumeirah Palm with a backdrop of the iconic Burj al Arab is an experience unlike any other, there's also plenty of other things you can do on water when in Dubai – relaxing cruises, team building events, fishing and on-board parties are just a few that Bernard Bilardello lists.
Understandably, you might be worried about high temperatures, but don't forget that it's Dubai we're talking about, a desert city where you can even go skiing and anything is possible. To avoid the heat on deck, you can opt for a night cruise. "Dubai is an all year destination, but between June to September, a nighttime-only one, as its too hot during the day. But not to worry, Bristol Dubai office is open from 10 am till 2 am," adds Bernard Bilardello.

Phuket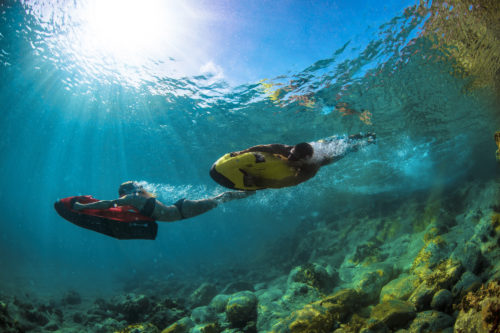 Thailand's biggest island needs no introduction. With millions of people visiting Phuket every year, it's without a doubt one of the most popular holiday destinations in the world. But if you'd rather avoid crowds, there is a place where you can escape them in Phuket – on water.
Phuket's biggest strength is its location, with the Indian Ocean's Andaman Sea to the west and the spectacular Phang Nga bay to the east. "Phuket offers an amazing diversity of beautiful landscapes and is famously surrounded by limestone islets and turquoise waters," says Thibault Salaun, General Manager at Bristol Charter Phuket. So whether you opt for a daily cruise or go for a longer island-hopping adventure, prepare yourself for vistas that you'll never forget. "The islands of Phang Nga bay or the famed Koh Phi Phi are a favorite among movie makers, because of their unique beauty," adds Thibault Salaun.
Too further add to Phuket's sea-cruising experience, a spectrum of activities is available both on and under the water. "Some of the world's top diving destinations are a stone's throw away form Phuket," says Bristol's GM before he goes on to list other watersports popular among visitor's to Phuket – snorkeling, jet skis, kitesurfing as well as some more cutting edge toys such as Seabobs, which take underwater exploration to a whole new level.
While sailing is possible all year round in Phuket, the best conditions are present between December and April with calm seas and plenty of sunshine. It's also then that the mesmerizing Similan Islands National Park is open to visitors. But even if you find yourself in Phuket at another time, Phuket has plenty to offer back on land, both when it comes to sightseeing and luxury lifestyle and what's important, those attractions are never far away from the marinas – in stark contrast to for example the Mediterranean. The way Phuket connects sea and land luxury lifestyles into one, convenient and unique package is one of many reasons why Yacht lovers enjoy it so much.
Find more information visit bristolcharter.net

Hong Kong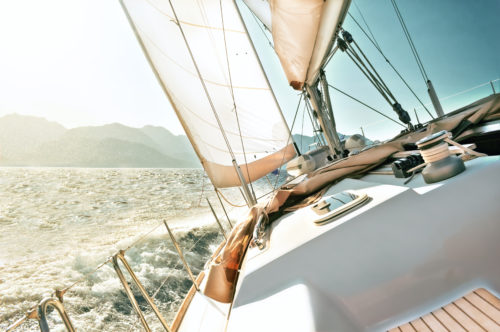 Asia's World City, a former British colony and a Special Administrative Region (SAR) of the People's Republic of China, Hong Kong is a city with many facets, and one of them certainly is a city of sailors. Blessed with good winds, particularly through the winter months from September to February, and some truly diverse landscapes, Hong Kong is one of Asia's sailing hotspots. "Here in Hong Kong, we have one of the biggest yacht clubs in the world – the Royal Hong Kong Yacht Club," says Rob Partridge, the club's Head Racing Coach. "It has approximately 12,000 members with around 5,000 of those members active in Hong Kong, and that's in addition to various government training centers," he adds.
Government support plays no small role in establishing Hong Kong as a prime destination for those who want to train to become professional sailors. And according to Partridge, government investments in elite training programs pay off. "We've had a team that finished 3rd at the 420th Championships in 2015 and another that made it to the top 10 at the same year's 29th World Championships," he tells us. And with boats in a variety of classes ranging from the Optimist to 100 ft. ocean racing yachts and children as young as six years old joining the courses (and even younger sailing on their parent's private boats), Hong Kong seems to have something to offer to anyone willing to try their hand at sailing. "Plus there are big offshore taking place here, going to Philippines, Vietnam and Hainan, so Hong Kong is attracting race boats from Australia, Japan and all over Asia," adds Partridge.
On top of that, one of the biggest draws of Hong Kong is the diversity of its landscape. Most people think that Hong Kong is only a crazy city with lots of noise and bright lights, "But actually around ¾ of Hong Kong is a National Park," says Partridge, "So if you sail away from the city, you can find some incredible beaches which can give you a feel of being on a deserted island in the middle of an ocean."
Find more information visit rhkyc.org.hk
Comments