By Maciek Klimowicz
Diamonds prove that true beauty comes from within. It's on the atomic level, that we discover the breathtaking structure, which results in the gem's spellbinding appeal. In the world of yachting, Savannah is such a gem.
It's a yacht to fall for at first sight. The 83.50-metre Savannah has all to catch your attention, and even more to keep you under its spell. It begins with its color, a one of a kind Sea Foam metallic green – except for the mast domes, the whole exterior has been metallic painted, ceilings and fixed deck furniture included. The added accents of black on the outside staircases and steps covered in teak, result in a structure of immaculate harmony.
Savannah's mesmerizing exterior profile is the outcome of a partnership between CG Designs and Feadship's designers, and evidence that it was a fruitful one, is everywhere. The thoughtful application of polished stainless steel strips, aluminum supports and teak give an impression of a structure that just floats, naturally and effortlessly, and so do the stainless steel doors, which form part of the yacht's continuous line.
But as in any noteworthy design, so here does the beauty translate to usability. The structure is characterized by openness of unrestrained spaces, with nothing to stop those on board from running from the main salon and diving straight into the sea. Freedom rules supreme on the main deck – a vast open space, enclosed only by weathertight sliding doors, and so it does beneath the deck, where a 'underwater lounge' – part marine life observatory, part cinema and part swimming pool – awaits. Each successive element of the interior design brings more surprises – the amount of detailing is unrivalled, the finishes and materials used, of immaculate quality, and the resulting space – alluring.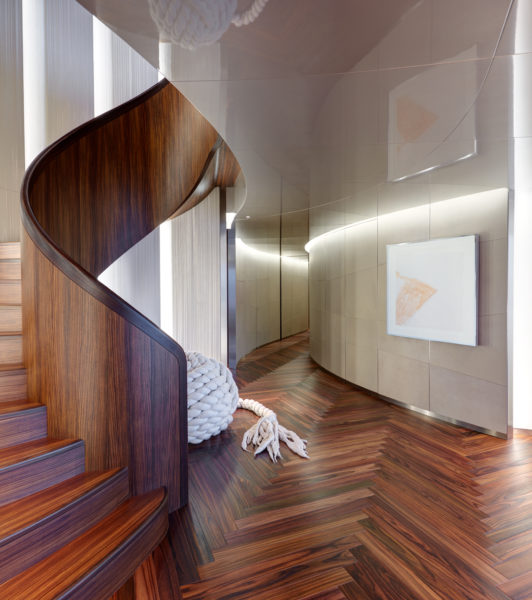 All that we established so far – that Savannah is pleasant to look at – could be deduced simply from thephotographs we present here. But just as the source of a diamond's beauty is found in its inner structure, so is excellence in design found beyond sole aesthetics. In Savannah's case, it comes from the cutting edge technologies used onboard, which set the yacht's course for an enviable destination – the future. Savannah is the first superyacht to feature an eco-friendly blend of single diesel engine, three gensets, batteries, propeller, azimuthing thruster and a streamlined hull shape. Fully custom created, this pioneering electro-mechanical propulsion platform offers fuel economy of thirty percent and sets an example for cost-effectiveness and cleanness.
Other design elements support that goal as well. Fitting a large contra-rotating and azimuthing stern thruster just aft of the main propeller ensures redundancy, and the design of the aft ship allows for a propeller that is forty per cent larger than the norm while the load it has to sustain is only half that of a conventional twin screw yacht.  Result? Fewer vibrations, higher efficiency and excellent maneuverability. Another key feature are the Li-ion one million Watts batteries which facilitate super-quiet cruising at slow speeds without any engines turning and provide extra speed at the top end. Yes, she turns heads, but not because of her roaring engines. Beautiful on the outside, Savannah's hides just as much beauty within.
Find out more on feadship.nl
Comments