At first you only see splashes of colour, random brush strokes, impenetrable chaos. But take a moment, give it a second look and shapes begin to emerge. There are trees here, a whole jungle in fact; there are birds of paradise, horses in the sky…or a sport motorcycle at full speed. Wacharin Rodnit's paintings are an ode to imagination, a happy dream.
Wacharin, a 46-year-old painter based in Phuket Town, is a man of joy.
A wide smile seems to never leave his face, always shining bright in the shade of his leather cowboy hat. But you don't have to meet him in person to be able feel some of this joy, there's much of it in his paintings. From between chaos and confusion, bright colours and movement frozen in time, his joy of life emerges and radiates on the spectator. Even the tiny humans hidden in jungle-like wilderness of one of his massive, wall-sized canvases don't seem to be lost or scared. They are playful, enjoying their time out in the wild.

"Nature has been a dominant theme of my paintings since my university studies. And while I'm constantly looking for new techniques and new themes, nature somehow always reoccurs," he tells me over a cup of Thai tea in his workshop, which is located in the heart of old Phuket Town. One look at his pieces, scattered around the atelier, proves his point. Even a painting of a sport motorcycle is full of life, infiltrated by natural chaos. Abstract, dynamic brush strokes barely suggest the main object of the piece, it's up to the spectator to see through the tangle.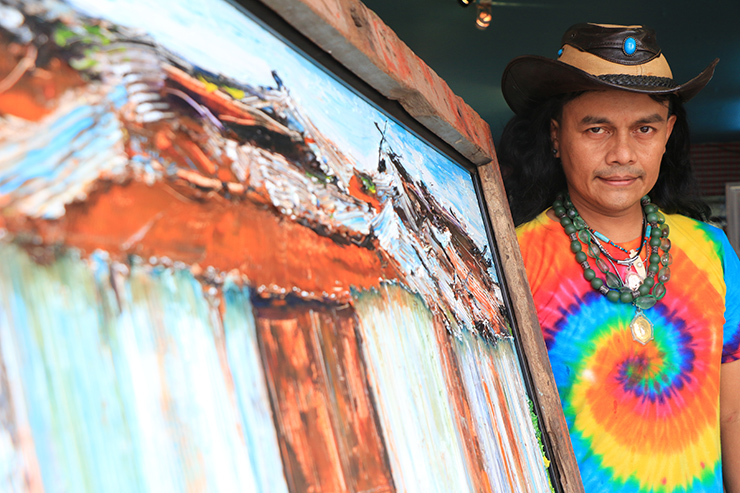 But while it was the natural landscape of the forest surroundings of his family home in Surat Thani that influenced Wacharin's early work, the last 10 years he spent in Phuket Town has left a mark too.
"Recently I took to painting Phuket's old architecture, with the thought of preserving its charm. I live in Phuket Town and I see the city changing form day to day, buildings being torn down, repainted, modernized. I want to save the old, authentic architecture in my paintings," he says.
The sun-lit facades, the decorative window arches, the vibrant colours – this is Phuket Town at its finest and most authentic. But while these pieces are much more lifelike than his earlier work, they are by no means photo realistic. With the brush strokes heavy and wild and a thick layer of paint producing a 3D effect, these paintings not only want to be looked at, they want to be touched.
By Maciek Klimowicz
Comments