Sometimes when you plan a weekend away from home, you know exactly what kind of weekend you'll get, but sometimes you get a weekend full of unexpected magic and excitement, which is what happened to me on my last trip to Koh Samui.
When I heard that the W Koh Samui was throwing a 13-hour music festival full of local and international DJs, I knew that this was the sort of weekend I couldn't miss.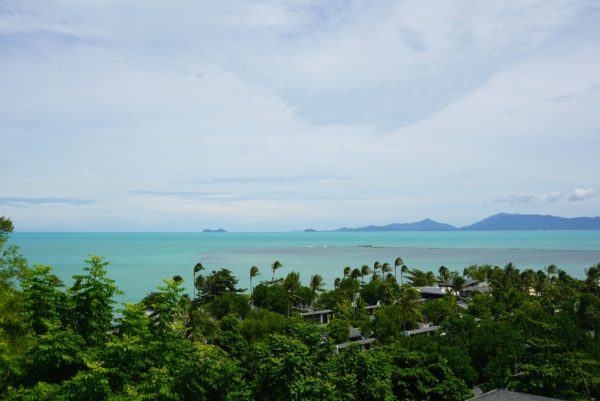 W Koh Samui sits high on a hill that commands an unobstructed view of crystal clear waters and white sandy beaches.  After a friendly welcome from the hotel, I am escorted to a beautiful pool villa fitted with indoor and outdoor showers, a bathtub overlooking the pool and a funky art deco to top it all off.  But what really caught my eye was my #backstagefestival bracelet and weekend program sitting next to a delectable chocolate confectionary. What a perfect way to start the weekend!
With four days booked at W Koh Samui, you would think I would have more than enough time to visit the entire hotel, sunbath, eat to my heart's content, dance the night away and still have time to go out and explore the island. Well… I thought so too, but quickly discovered that there is so much to do at the resort, that one doesn't even have time or even the want to get out anymore.
I started my afternoon with the hotel's signature massage at AWAY spa, located on a hillside overlooking turquoise and tranquil waters.  Choices of several unique oils are presented such as passion fruit, rose, and champagne.  After smelling each oil several times, I chose the Champagne, which left me feeling like I was floating in a glass full of the sparkly good stuff!
The combination of music, stunning view, scented oil and mood lighting created the perfect atmosphere for an ultimate relaxing experience.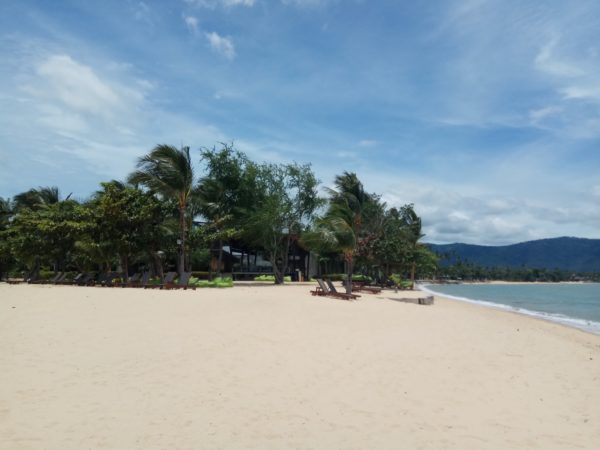 After this, I decided that a stop by the beach was a must at this time a day. The sunset is coming soon and I was betting that all the beanbags and lounge chairs would be already taken, but surprisingly guests are scattered over the beach and I had this feeling of being on an empty beach despite the hotel's full booking for the festival.
Shade is provided by the numerous palm trees, which surround SIP, the hotel's beach bar & restaurant, outfitted with beanbags, lounge beds and hammocks scattered around the beach.  And again, I'm taken aback by the feeling of being in paradise, almost alone, surrounded by the sea and its small islands in the distance.
For lunch and dinner, SIP offers several options such as various kinds of tapas and comfort foods, right on the beach, alongside delicious cocktails.
W Koh Samui's all day dining- The Kitchen Table – where you'll find European and Thai dishes, for all tastes, all day. That's also where you will find the buffet breakfast, with an amazing selection of food, accompanied by a breathtaking view for your first meal of the day.
I was delighted to see an array of pastries, cold cuts, meats, Sparkling wine, Bloody Mary but also healthier choices and detox juices.  Everything you would need to fill you up, relax and get you to party some more. After all, "Detox. Retox. Repeat." is the resort's motto.
However, if you feel like having a very exciting, more sensual dinner, don't forget to check out NAMU, their famous contemporary Japanese restaurant.  I can't tell you everything that I had that evening, but let's just say I was in a food coma right after! The menu at NAMU is innovative and daring, while keeping authentic Japanese flavors.  Some of the dreamy dishes I remember were the Brandy Flambe Wagyu, Spicy Tuna with its Creamy Spicy Mayonnaise, and the Udon Lobster.
And of course you'll find the usual assortment of fresh sashimi but some unusual cocktails to accompany the food with.
After all that food, I'm ready to go to bed and rest for tomorrow's festivities.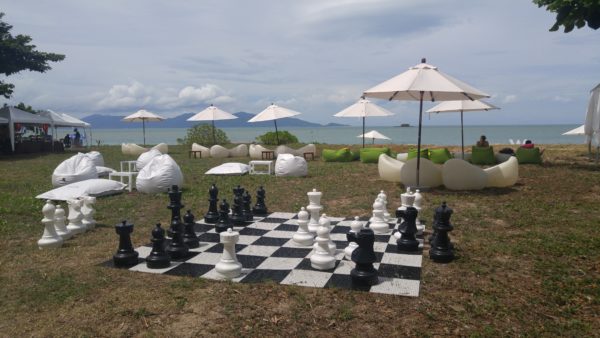 The area where the festival took place was massive and right by the beach. The grass and the sand were decorated with colorful lightings, beanbags to chill and tan all afternoon, hammocks between palm trees for those seeking shade, and VIP couches had been set up on the beach especially for the occasion.
Two locals graffiti artists were also doing live art performances that lasted all afternoon so you could witness the evolution of their work.  To get your heart racing, activities such as paddle boarding, kite surfing and jet skis were available to bring partygoers to another level of excitement and fun. Funky beats, a gentle breeze, food and drinks at hand, with some cool, eccentric, and colorful people dancing all around, there is now nothing else to do than to join in on the fun!
DJ Dede, DJ Groove, DJ Orawan, Mr. Has, and Armando Mendes (W Koh Samui's resident DJ – check out his W Backstage Promo Mix here) were just a few of the DJs performing that night. The buzz of excitement and energy reverberated in the air as people chatted while drinking local craft beers and moved to the beats.
But the evening amped up to a whole new level when the underground duo London Beats arrived on stage and set the dance floor on fire. One quick glance around me, and I saw every single person dancing the night away, including famous blogger Taya Rogers (follow her on Instagram) and beauty blogger Sornsawan Jaitum (Insta here). The whole atmosphere felt like magic, with fluorescent dancers mixing in with the crowd, the starry lights in the trees above our heads and the music leaving you with a "never-ending summer" kind of feeling.
Get a feel of the vibe with this London Beats' track!
What a night to remember! I now understand why W Koh Samui has the reputation of throwing the most memorable events on the island. They know how to have fun and I'm only hoping that the resort has more of these events coming up soon!
The day after was spent relaxing on the beach, with the memory of last night's rhythm still pumping in my ears. At the end of that day, I wanted to witness the sunset from WOOBAR, the resort's famous cocktail bar, with its iconic vista, where originally crafted cocktails from an intensive Instagram menu are served until late, and great music curated by their resident DJ Armando Mendes. Each drink overflowed with creativity in their design as well as in their flavor.
Want more? The Barrel Room is the only barrel aged cocktails place on the island. If you want to feel more exclusive than exclusive, book that experience in advance, as seating is limited.
After all this drinking, there is nothing better than burning all the calories away at FIT, the 24-hour gym. However, on your way back to your villa, don't make the same mistake as I did. DO NOT stop by the resort's Sweet Spot, that little slice of heaven where cold drinks and ice cream are "free flow" for your enjoyment, at any time of the day. Actually… scratch that – do make the stop! After all, you are on vacation!
It felt like there was always something going on. From the WET pool parties to the BBQ buffet on the beach every Sunday, to their Bold Brunch first Saturday of each month and Monday night at the movies, you won't have time to feel even slightly bored.
The ultimate service though, is the Whatever/Whenever service available via What's App which make getting in touch at any time of the day easier. Your wish is their command…
With all the events happening at the W Koh Samui, you can understand how I never made it out of the resort. What for, and why would I?
Comments