By Maciek Klimowicz
Intro: Signature style – every great artist in history had his own. A unique technique, a visual language, a philosophy, that allowed them to leave their mark on our cultural heritage. But a signature style doesn't come in a ready to use, prepacked form; it becomes distilled out of years of trial and error, it constantly evolves and changes, until – if ever – it reaches its utmost expression. Natalia Berglund is an artist on such a quest of self-discovery. See where it might take her.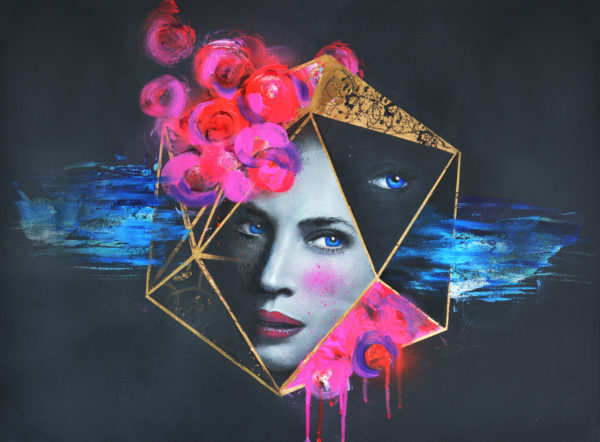 Natalia's story is one of a journey. A literal one, that took her from her home country of Belarus and the city of Minsk where she completed an Art Lyceum, all the way to the US, where she graduated in Graphics Design from the University of Minnesota; but also an artistic one, best witnessed through her works.
The vast majority of these have one thing in common – they depict human faces. To find examples, take a look at the images around this text, as well as the one gracing the cover of this issue of NAA. While you're at it, you might notice that her choice of subject matter is where similarities end. Yes, most of her pieces depict faces, but barely any two pictures look remotely the same. If Natalia Berglund has her own style, it's one of constant change and experimentation.
 And she personally believes, it's a good thing. "Mylove for artistic experimentation make it hard to narrow my focus and create a more consistent and uniform body of work, but that's not necessarily a bad thing,' she said in one interview.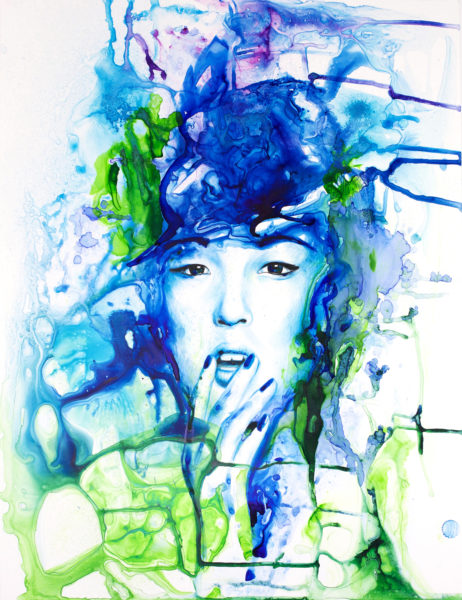 We couldn't agree more. Natalia's works show her adventurous spirit and prove that she has the courage to try her skills in different techniques. What results is a body of work, that is as diverse as it is entrancing. From more traditional watercolor and acrylic paintings, through pieces featuring elements of collage, to full on 3D sculptures popping out of flat canvases, Natalia doesn't shy away from any challenges in her search for her own language of artistic expression, and the results of this quest are largely a success.
Success in the sense of accessibility – Natalia's works are quick and eager to grab the viewers' attention with their aesthetic appeal – but also in the way they seem to convey a deeper meaning. Whether she intermingles thick layers of gold leaf with splashes of color, sculpts in clay and plaster or enshrines her faces in fantastic, surreal halos, her pieces raise many questions and deliver few answers, leaving the audience part puzzled and part enchanted. It's art where nothing is certain, nothing hints on what might come next. It's art that is still transforming, evolving and growing, yet to set in its final form.
When? How? To what effect? No one, including the artist herself, can know for sure. But what a pleasure it is to look at, as it unfolds in front of our eyes.
Comments