– By Maciek Klimowicz – 
There are multiple elements that form a perfect meal – quality produce, chef's impeccable technique, attractive presentation, are all equally important. But nothing turns a dining experience into a fine dining experience, like the secret ingredient, known only to the best chefs out there. It's called creativity. At the recently reopened Tré restaurant at Banyan Tree Phuket, it's the star of the show.
The ambiance at Tré is as expected – high class yet relaxed. After all, the restaurant is located in one of the island's best luxury resorts, occupying a gorgeous spot on a pond's edge and overlooking Banyan Tree's Double Pool Villas. As the sun sets and the night crawls in, the open fire lanterns reflected in the water surface, transform the atmosphere into a somewhat magical one.
Service doesn't surprise either – meaning it's impeccable. The staff is always there when needed, kind, attentive and at times amusing, helping you ease in into the experience that's about to unfold in front of you.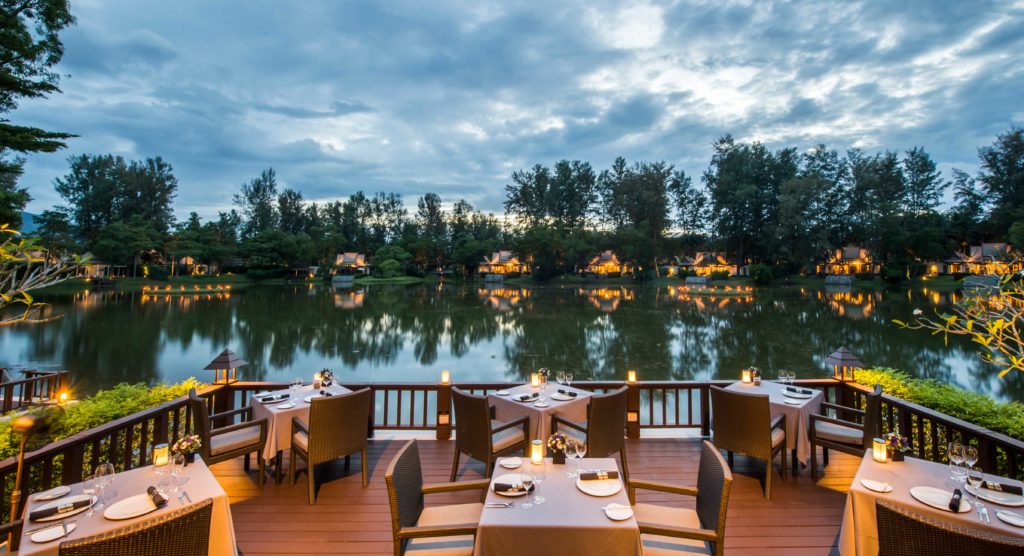 The show begins, when the food arrives at your table.
We had our delivered by the Executive Sous Chef, Kreaton Cutajar himself. Don't get me wrong, the imaginative, artistic presentation of the dishes on the table speaks for itself, the aromas rising from the plates are enchanting and flavors are perfectly balanced and often exciting. But to have the chef explain what exactly was done to the fresh produce to turn them into the things of beauty in front of us, added a whole new level to the experience.
That's because not a single ingredient which goes into making of dishes at Tré, is left untouched. Each is transformed, often beyond recognizing, to provide a true thrill to the pallet. On paper, it might look luxurious but relatively straightforward – Wagyu striploin steak, Scottish langoustines, poached veal tenderloin, risotto with truffles and so on – but in reality, each dish at Tré receives intense, creative treatment, turning it into more than just the sum of the ingredient used in its making. Produce gets slow cooked, evaporated, caramelized, crushed, infused, reduced, blended…the list goes on, and the end result is often surprising and always delicious.
And it doesn't end with the dishes from the repertoire of the aforementioned Chef Cutajar or the Executive Chef, Alfonso de la Dehesa. Tré aims to take this creative vibe even further, turning the restaurant into Phuket's "Creative Playground" for talented chefs from around the globe. Now, that the first invitations have already been sent out and the island can expect an influx of culinary talent in the upcoming months, the stage is set for more innovative cuisine.
Yes, things are bound to get exciting – as they always do when creativity is involved.
Find out more on Tré Website 
Comments