– Words by Matt Clemens –
This story is the result of a collaboration between NAA and S.Pellegrino
Chef Tim Butler of the recently opened Esenzi restaurant at Iniala Beach House in Phuket, is doing his best for the sea and with what the sea has to offer. Taking temporary leave of the hustle and bustle of Bangkok where his esteemed "Eat Me" restaurant is located, he takes the reins at Iniala's new globally influenced seafood restaurant, to offer a 'clean, fresh and creative' feel to its guests.We caught up with the chef Butler, who has always "felt at ease near the sea", to find out about more about this new endeavor.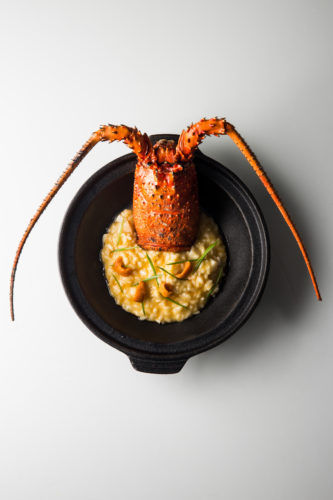 NAA: How would you describe your cooking philosophy/style?
Tim Butler: My cooking style is simple. I prefer to use the best products available, highlighting them with a few flavours that allow the main product to take centre stage.
NAA: Where do your culinary influences come from and how have they changed since moving to Thailand from the USA?
TB: Having spent the past nine years here in Thailand, Asia, its various cultures and approach to flavours obviously has a lot of influence in my food, but in terms of menu composition, travel probably has the biggest influence, ranging from the products I use to flavour profiles and techniques.
Classic American flavour profiles and dishes make up parts of my menus, but you'll also notice that quite a few dishes on our menus have a decent amount of chilli to appeal to the Thai palette.
NAA: The menu at Esenzi has a strong seafood definition. What is your signature dish?
TB: I'm currently in love with a dish we've been playing with for Esenzi – an Akagai Laab. It's a play on a classic spicy, salty, sour Thai salad called Laab, but using great sashimi grade clams. We're really playing with a lot of different products, hoping to push the boundaries by using species that aren't classically associated with western seafood. We got a load of Sea Cucumbers and Shirako delivered yesterday and are currently playing around with that, to see what works.
NAA: Any seafood favourites?
TB: I can't say that I have a current favourite, but recently I find myself gravitating to Abalone. Outside of a few regional areas in California and Australia, It's not something that's particularly widely used in western cuisine. It's a great product, because not only is it diverse but it's also very sustainable, being raised in farms with very low impact on the environment. The first time I ever played with them was after a trip to Monterrey Bay Abalone – such a simple low impact set up they have but what they offer in terms of product is incredible.
NAA: Can you tell us about sustainable sourcing for the restaurant?
TB: We avoid all red list products and personally I don't use tuna. It's really scary what's going on in the oceans at this point in time, and it's just going to get harder and harder to stay sustainable. At Esenzi and Eat Me, we're actively trying to support great people doing the right thing, as far as marine conservation goes, and really trying to get the local fisherman in the area to be as responsible as possible
NAA: Can you describe the 'immersive' dining experience at Esenzi?
TB: There won't be a chef's table per se, but the initial welcome course will be served on the back lawn, overlooking the beach, to allow the guests to take in the feeling of the sea. The diners will also have the opportunity to enjoy a course inside the kitchen, and watch it being prepared for them, where they can also see what we have live on the day in our 15,000 litre saltwater tank.
NAA: What are the challenges/rewards of opening a new restaurant?
TB: Every opening carries its own lessons, it's always an opportunity to start fresh and look at food in a way that you haven't before – It's a change of mindset. Getting out of the hustle of Bangkok and into the calm of Khok Kloi (where Esenzi is located) has forced me to look at food differently. It's a great duality between Eat Me and Esenzi.
NAA: What's exciting you on the Asian culinary scene right now?
TB: It's great to see guys like Ton from Ledu and others like him coming back to their homes and doing their take on their own cuisines
Comments