Please let us know your starting point in fashion industry.
Guo Pei: My passion in fashion is deeply rooted in my childhood. I was born in 1967 when the People's Republic of China had not entered the new period of reform and opening up compared to nowadays. After the Great Proletarian Cultural Revolution movement, people still wore mostly grey, black and plain clothes. There were not many colors so the memory of those days fostered my passion for colors and aesthetics. I started learning clothing design in 1982 so it was a long, long path since then. I want to bring back the extravagance of Chinese craftsmanship, embroideries as well as the elegance of traditional Chinese culture and introduce them to the international exposition.
What are the difficulties or challenges of becoming a designer in China?
Guo Pei: Becoming a designer in China is as difficult as finding a tree in an oasis or looking for a needle in a haystack. Painstakingly, it took me sweats and tears before a dream become reality. People often view that modernity, trends and fame are the most important factors of being a designer but I see it differently. Since the beginning, I adhere to the core value depicting my design identity. That core value includes the intricate techniques of traditional embroideries and patterns inspired by Chinese-royalty. For 30 years of working, I have been drawing inspiration from traditional works shown in museums across the world. For this trip to Thailand, I also have a chance to visit Queen Sirikit Museum of Textiles.
In creation of each collection, what are your inspiration and influence?
Guo Pei: The inspiration and influence behind each collection are based on what I would like to communicate to the world. As mentioned before, I often travel and visit museums around the world, including those in the Middle East, Asia, etc. I have incorporated histories of what I have seen and translated them into fashion work. Recently, I visited Paris and fell in love with the elegance of an ancient cathedral. Accordingly, I narrated my impression through a collection.
What are difficulties and challenges working on the international stage?
Guo Pei: Actually, challenges are inevitable for designers of all levels. In every work process starting from the initial scratch till the adding of finishing touch, we all experience different challenges. I don't mind facing challenges as they bring me wider opportunities and improve my learning curve. In a nutshell, challenges empower me to become a stronger person.
What are your goals as a fashion designer?
Guo Pei: I don't actually have that specific goal. Thirty years ago when I started learning clothing design, I didn't expect to be in this position. I just go with the flow. Anyway, what I do believe deep down inside is that ones have their duties toward their own conscience and nation. Being a fashion designer, I have my duty to bring Chinese culture and history to the international recognition. That is indeed my goal. In the near future, I wish most brides-to-be in China choose to put on traditional Chinese wedding dresses to symbolize the feeling of love and respect for the country, its history and traditions.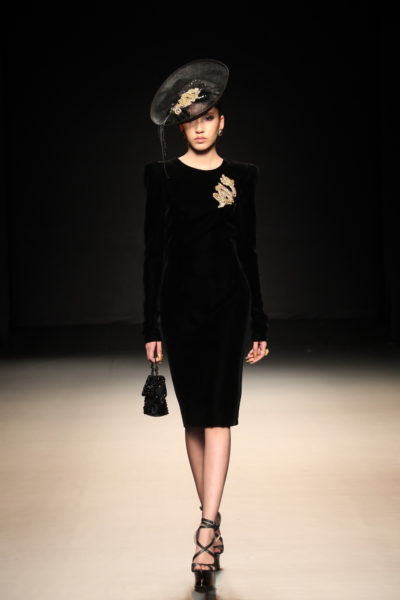 What are your key success factors?
Guo Pei: As a fashion designer, having energy and passion from the love of your job are the key success factors. This kind of love has to be strong enough that you are willing to dedicate yourself in order to create a work of art. One cannot be on the road to success without loving their jobs.
Please tell us about your preparation for BIFW2017. What is the highlight of your show and how long does it take for the preparation?
Guo Pei: I am actually very excited for this show as it is my very first time visiting Thailand. I wish I could feature my latest Spring/Summer collection to Thailand's fashion enthusiasts but they are being displayed in Paris at the moment. Instead, I have brought the previous Haute Couture collection called "Meeting & Greeting" for this upcoming show.
What are your expectations for accepting the invitation to join BIFW2017 in Thailand?
Guo Pei: I love Thailand so I take this occasion as a great opportunity to explore Thai art and culture. I wish to harmonize Thai unique art, culture and patterns into my creation. Thailand and China have a long relationship. Yesterday, I visited the Grand Palace and Queen Sirikit Museum of Textiles. I was truly thrilled to experience this state-of-the-art, prestigious work preserved by Her Majesty Queen Sirikit.
With China's ever expanding economy, how is the feedback of modern Chinese clients towards Haute Couture? Besides celebrities attending very important events, who else are your clients?
Guo Pei: My clients are different from those in Europe and overseas. In European countries, Haute Couture designers might not work closely taking care of the middle-class clients while I welcome all of them. I personally believe that clothes should be treasured items for life. I am really touched having chances to serve clients and I constantly aim to give them beautiful and lasting experiences. I wish my creations can be a family heirloom handed down from generation to generation.
What are differences between Asian Haute Couture designers' work in comparison to European's?
Guo Pei: Actually, there is no difference. It is just that people do not really know us. When I visited Paris last January, people there honored my work as the Haute Couture masterpiece of ingenuity.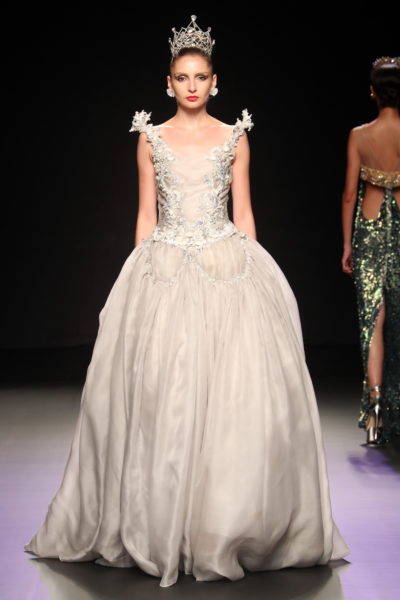 How do you feel about Rihanna's yellow dress at New York's Met gala?
Guo Pei: That creation will be on the BIFW2017 stage too! I did not expect that great feedback from social media and the crowd. I was initially unsure if Rihanna could handle the dress weight but finally, she elegantly appeared on the red carpet and had everyone in awe. I was surprised winning the global fame over a night but as Chinese proverb said opportunities always come to those who are ready and do their best.
How do you feel about people making fun of that yellow dress?
Guo Pei: It was my husband who saw that mockery image first and he commented that the image was so funny and lovely. Anyway, I don't take mockery seriously and I do believe that we cannot judge the quality of work by people's mockery or criticism.
As a world-renowned designer, in which ways have you helped improve Chinese fashion industry?
Guo Pei: Being a well-known designer does not only bring recognition to China but also to Asia as a whole. What I have successfully brought to life is 'hope' in which young blood designers can take as a living example that no dream is impossible.
Being a designer in China is very difficult but how could you achieve it? Could you share your insight to young designers?
Guo Pei: You should set a goal first followed by a solid framework. Young designers nowadays might take a shallow shortcut to the limelight by asking celebrities to put on their collection. I do not think that is a lasting road to success. I prefer staying and working at home, not going to have meals with press or celebrities. I focus on my creations and let them justify what I am capable of. People may think money and relation are the only keys to everything but I personally believe success has nothing to do with money. What truly counts is the investment of your time and effort.
Photos by Vincent Sung & courtesy of PR Siam Piwat
Comments