Vatanika's show at Bangkok International Fashion Week 2017 (March 25, 2017) was set up like a moonlit pier at a beachside resort, featuring a runway decorated with warm lights and a sultry version of "Besame Mucho" that complemented the wet-haired, dark-lipped and dewy-faced models.
Vatanika, a leading womenswear designer label, treated attendees to a flirtatious show with clothing that was both contemporary and feminine. Each model emerged on the stage looking like they came out fresh from a spa or a stroll on the beach, and freely expressing herself by sashaying to the music or doing twirls instead of the usual abrupt pivots at the end of the runway.
Despite the business-formal influence and monochromatic colour palette, small details made the designs fun. Pinstriped formal wear, such as vests and flared tuxedo pants, were paired with lacey or metallic-striped tops, combining practicality with a relaxed sort of openness. A meshy white one-piece worn under a long cover-up was dressed up with strappy stiletto heels—the only kind of shoes the models would wear, it seemed. Form-fitting little black dresses, some with off-the-shoulder designs, some with curvy metallic stripes on the side, showed off the figure in a way that reflected the design philosophy of Vatanika: clothing that makes women look like women.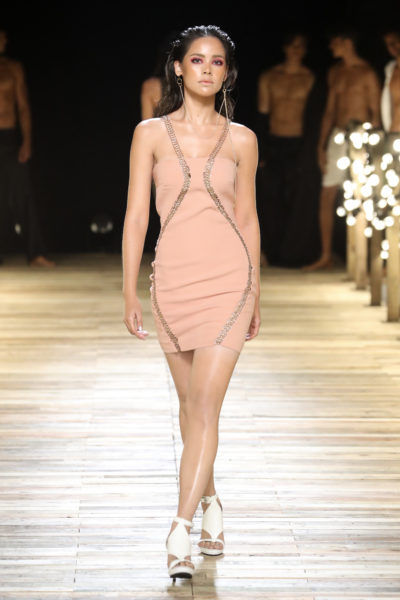 Though there were a lot of female fans at the show, male fashionistas also appreciated Vatanika's designs. "The designs are classic," said one male fan. "They fit the body well and look very easy to wear to different occasions—to the beach, an evening night out, or to the workplace." A female fan summarized Vatanika in two words: "Very sexy."
As the show went on, it became apparent why the brand has such devoted fans: form-fitting, thigh-high dresses scooped down to show off the back, and ostensibly casual outfits—like a moto jacket combined with shorts, a stomach-baring tank top, and a baseball cap—become bold and dressy when the pier lights caught the glistening metallic fabric and soft cuts. More formal clothes, like a white pantsuit, were transformed into something one-of-a-kind and unique through the addition of gold metallic stripes that are Vatanika's trademark.
Vatanika's collection is a tribute to self-expression and addresses the fashion needs of the modern woman in an edgy and sophisticated way.
Words by Millie Ho (www.millieho.net)
Photos by Vincent Sung & Courtesy PR Siam Piwat
Produced by Le Flux Asia (www.lefluxasia.com)
Comments