For those who enjoy the sea-faring life, Sanlorenzo's third superyacht in its Explorer line is pure luxury. The 460EXP named Ocean's Four is unique in that it offers a high level of self-sufficiency and independence for owners who value adventure and the spirit of exploration.
The vessel first debuted at the Monaco Yacht Show in Sept. 2015 and has gathered international acclaim in a variety of diverse markets. The 460EXP Ocean's Four measures 42.2 meters (138.4 ft.) from stem to stern, with strong and powerful lines similar to those of much larger ships used for exploration and navigation of new and exotic locations.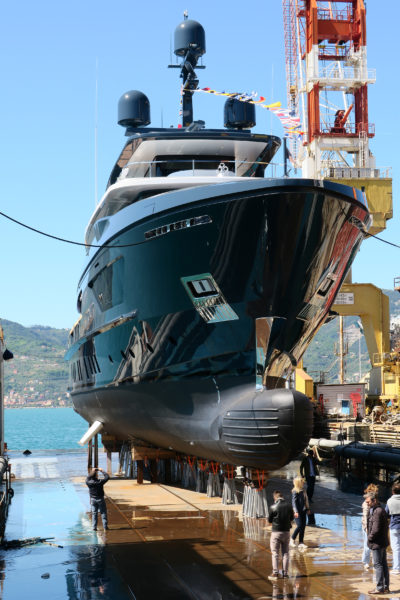 The yacht was designed with an aluminum superstructure and steel displacement hull by award-winning superyacht designer, Francesco Paskowski. The Ocean's Four features a dark blue hull color called Graublau.
It features the latest in safety, technology and five lavishly appointed state rooms, with spacious surroundings to comfortably accommodate 10-12 people. The interior was conceived and created by the exclusive design firm of Antonio Citterio Patricia Viel, with naval-themed architecture throughout.
Of special interest in the 460EXP are lowered bulkheads that enable a view of the ocean from the main salon. Specially designed openings in the master suite allows for outdoor viewing of scenery without leaving the comfort of bed.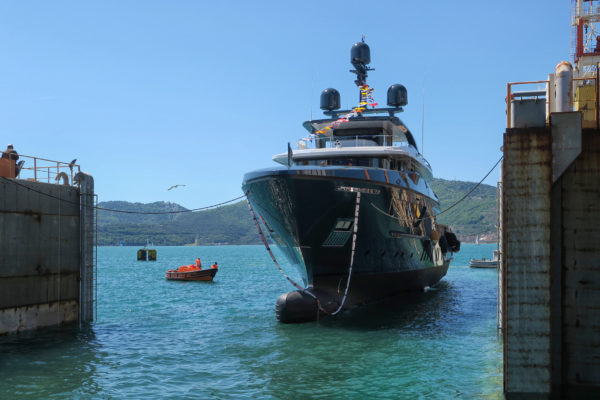 The design of the Ocean's Four creates a large space in the stern of the main deck where owners can house their favorite high-end toys when the yacht is underway. There's enough space for storing personal items ranging from a fishing or sailing boat, seaplane, hovercraft, or personal submersible. When lying at anchor and the personal craft removed, the main deck is transformed into a spacious solarium.
Strong and sophisticated, Sanlorenzo's 460EXP Ocean's Four cruises at a maximum speed of 16 knots with a 4,000 mile range for nautical fun, expeditions and exploration whenever and wherever the mood strikes. The vessel accommodates 7-9 crew members, allowing owners and guests to travel to any destination in elegant style.
Comments