–Words by Vincent Sung–
Sing Sing Theatre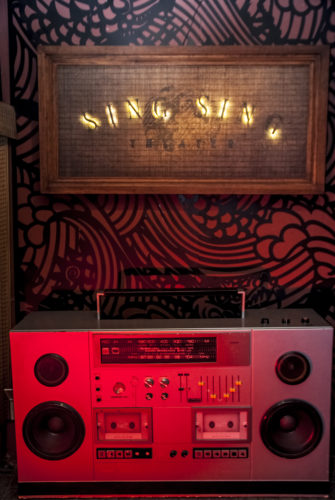 Quickly taking over the party crowd from Maggie Choo's, Sing Sing Theatre latest glam bar-club cum theatre designed by nightlife mogul Ashley Sutton, will seduce lovers of elevated dance floor and burlesque performances. Upon entering the theatre, visitors will be captured by a mysterious and sensual atmosphere. The architecture and interior design reminds on an ancient Chinese courtyard theater or a high-end brothel that used to serve the nobility or Bourgeoisie. Mezzanines flank the main stage with two sunken bars on each side and secret passages leading to semi-private booths overlooking the dance floor. At the center, resident DJs spin party-hard tunes, back dropped by birdcages, parasols, red lights and exotic dancers dressed in sexy Qi-Pao.
Address: Sukhumvit soi 45 entrance between Quince and Casa Pagoda (BTS Thonglor)
Phone: 063 225 1331
Hours: Open Tuesday to Sunday 9pm to 2am
Oskar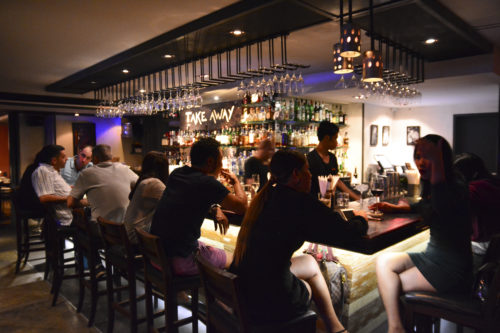 One of the first international bistro/bar with DJ on Sukhumvit soi 11, Oskar became quickly 'the' venue of choice for pre-clubbing and a favorite of the Soi 11 party crowd. Casual yet classy, Oskar offers unpretentious comfort food in satisfying portions. Chef Julien Lavigne serves classic French and European dishes with a modern twist. It's a bistro concept, so you can eat, drink, and possibly dance as the night evolves and the crowds move in. Oskar gets lively after 10pm as a live DJ spins tunes, but never so loud that you can't hear yourself think. The terrace is a great observation deck; watch the inebriated as they stumble out of Levels across the street.
Address: 24 Sukhumvit Soi 11 (BTS Nana)
Phone 02 255 3377
Hours: Open daily from 4pm to 2am
Hyde and Seek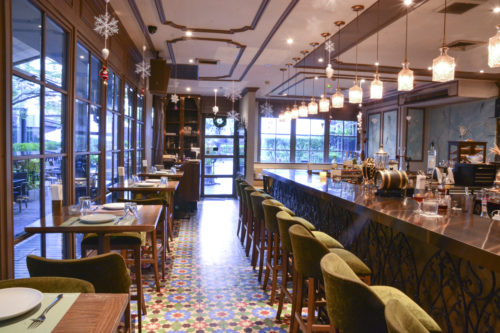 A "Culinary Playground for Grownups", Hyde and Seek is on the Thai 'socialite' scene since 2010 with its philosophy of fun-dining. Lively evenings are driven by DJs spinning funky tunes seven nights a week in an ambiance evocative of a French brasserie. Smokers can enjoy a large outdoor area with lots of greenery and different 'hidden' spots to lean back. This place was aptly nicknamed Thailand's first "London-meets-New-York-meets-Asia" gastro bar, and selected as Thailand's Best Restaurant by Thailand Tatler and Top Table.
Address: 65/1 Athenee Residence, Soi Ruamrudee, Wireless Road. (BTS Ploenchit)
Phone +66 (0) 2168 5152 – 3
Website: www.hydeandseek.com
Above Eleven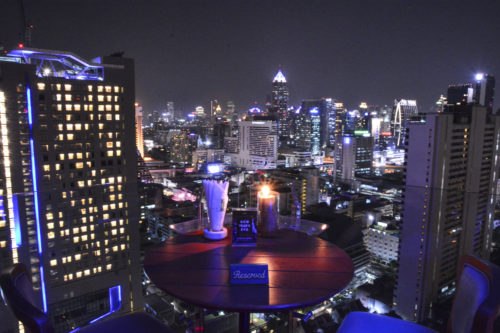 Bangkok is famous for its rooftop venues, but they can sometimes get stuffy and pretentious, not to mention expensive. Not so at Above Eleven, which serves an unusual mix of Japanese and Peruvian food, as well as crafty cocktails at the bar. The atmosphere and patrons tend to be lively and relaxed, and the men's room is worth a visit for its distinctive design. The roof may not be the highest, but the view is still commendable, and your wallet will probably sigh in relief.
Address: 38/8 Soi Sukhumvit 11
Phone: 083 542 1111
Hours: Open daily from 6pm to 2am
Website: www.aboveeleven.com
Maggie Choo's
A speakeasy in the 1930s-Shanghai mold, it is fronted by a traditional noodle shop festooned with parasols and antique birdcages that serves a mean bowl of Ba Mee Moo Dang (BBQ pork with egg noodles in broth). Step past the curtained entrance and it's a whole new world, with a vintage casino-style bar, leather couches, Qipao-clad lovelies that pose atop the bar-top or on swings, and a jazz soundtrack. The libations are strong and aromatic, like the "Empress of India," a delicious blend of vodka, dragon fruit, marjoram, and lime.
Address: 320 Silom Rd, Silom
Phone: 091 772 2144
Hours: Open daily from 7:30pm to 2am
Website: www.maggiechoos.com
Comments