Time to give back
The stunning tropical island of Phuket attracts many expats, who come here to embrace a slower-paced beach life. I was amongst those to settle here, but my pace of life is far from slow. In fact, it's extremely fast. During my career as a professional triathlete, I won eight IronMan titles, and finished 2nd at the legendary IronMan World Championship in Kona. Now at the age of 51, I run my own triathlon training group, Z-Coaching Phuket. While Embracing the island way of life with a permanent tan, I train alongside my athletes, pushing them to their athletic limit.
Muc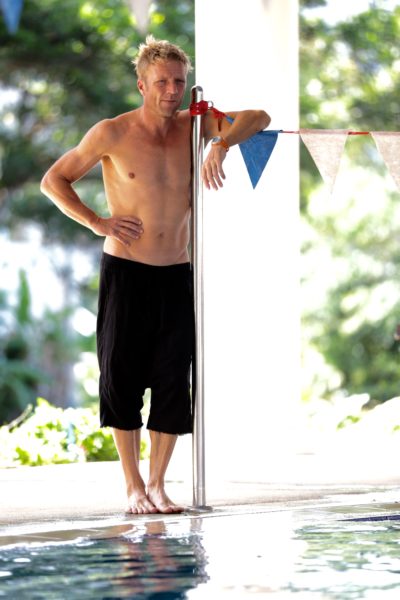 h has changed over the years. When I first visited the island in 1997, it was to race at the Laguna Phuket Triathlon. I had declined an invitation three years earlier due to a combination of Kona taking place just one month before LPT, and a prejudice against racing in Asia. The stereotyped hot and humid conditions, the excessively spicy food and a fear of riding my beautiful Canyon bike on less than perfect roads had dissuaded me from making the trip.
How things changed after racing that first LPT! It took very little to persuade me to return the following November. And landing back in the grey German winter after that second race, it hit me how my discovery of Thailand had only just begun. Having seen the luxurious side of the island, I craved to discover the real Thailand.
Five days later I touched back down in the Kingdom, and began a different type of adventure. I devoured the delicious food and spent time exploring the unique scenery, from the southern islands to the rice paddies of Chiang Mai and the chaotic capital of Bangkok. I had quickly fallen in love with Thailand, particularly Phuket, when I realized how it was a triathlete's ideal destination. Which is why when in 2010 I was invited to develop a triathlon academy at the newly opened Thanyapura, I didn't think twice.
I spent five years building the triathlon program there and training athletes, both expat and local, before branching off separately. Wanting to complement Thanyapura's offer while making the most of Phuket's appeal: running on the forest trails and beaches, more sea and lake swims, I decided to go independent, and so the Z-Coaching training group was born.
Together with some of the best local athletes, I want to use the knowledge and resources that we share to integrate a fresh wave of talented young Thai athletes into the squad and put the country on the map of professional triathlon racing. Phuket and Thailand have given me so much, now it's time to give back.
By Jürgen Zäck
Comments