Words and Photos by Maciek Klimowicz
One of my earliest memories is of a journey; a journey by train. Except for the fact that I was on that train with my parents, I don't recall much of the ride – the destination, the time of travel, the places we passed by on the way, all escape me. But what I do remember, is how absolutely wonderful it felt. How I enjoyed the ride.
That's the thing with railway travel. Take a car, and you're mostly just swallowing kilometres, take a flight, and you're just getting there, as soon and convenient as possible, take a train however, and it's the journey itself that becomes central to the experience. One that you revel in every moment.
I've taken many trains since that first ride of my childhood memories. From the long distance railway escapades across India, to the rickety local trains of Myanmar, from a precariously steep ride on the steam engine "Toy Train" of Darjeeling Himalayan Railway, to 300km/h in the Shinkansen – Japan's Bullet Train; wherever I go, I try to take a train. Some of them are fast, some absurdly slow, some are modern, other very much less so, but from all those trains and all those rides, not one can match the experience of traveling on the Eastern & Oriental Express.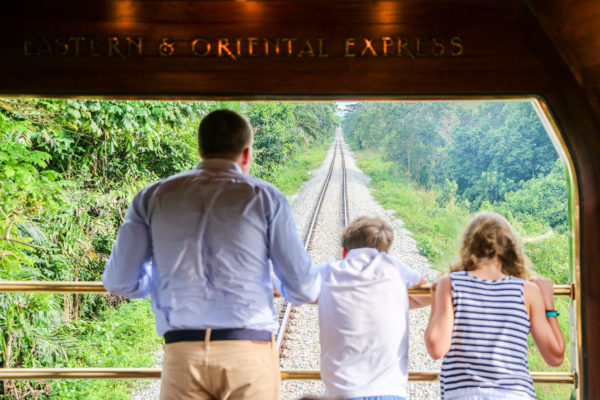 I don't want to waste your time and my page space presenting the background facts about this exceptional train, it's all there, in print and online. The train is also mentioned in countless publications on railway travel and has its own Wikipedia page. The facts are all there, so let's talk emotions.
Was I excited when I found out I was going to travel from Singapore to Bangkok aboard the E&O Train? Excited doesn't give it justice! But in whole honestly, I was also a tiny bit anxious. That's because the line between vintage and dated is a thin one. Too often, what's meant to evoke nostalgia for some glorious past turns out to be faux fabrics covered in dust. And that's exactly what I thought Eastern & Oriental Express was – a nostalgic ride on a vintage train. But let me cut any speculations right here, right now – first of all, the E&O Train does the sentimental journey experience with immense grace, and what's even more important – it's so much more than just a ride down the memory lane.
The whole experience of traveling back in time begins at check-in – and check-in is in order, after all E&O Train – part of Belmond collection Hotels Trains and Cruises – is more like a luxury hotel on train tracks than anything else. The formalities take place at the legendary Raffles in Singapore, arguably the most famous hotel in Asia and the birthplace of the famous Singapore Sling Cocktail. A glass of this pink-hued concoction is served to those with the E&O Train boarding pass, and while I'm usually not a fan of sugary sweet drinks, in that place and those circumstances, it tasted delightfully.
After that, it's straight to the train… with a short stop for passport control. Ah, immigration checks! All travellers love to loath them. But in this case, the inconvenience of crossing the border, enduring the piercing gaze of the immigration officer as he flipped through the pages of my passport, was immediately forgotten, the moment I stepped aboard the Eastern & Oriental. It was like stepping into an alternative reality.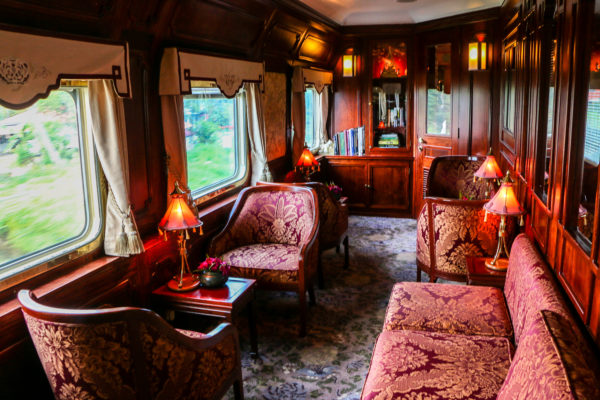 The first impression is of soft plush and highly polished wood, of glittering copper and dimmed lights. It's luxuriant and inviting at the same time, and the instant you enter, you fall into a soft embrace of extravagance. Yes, it's a train, the corridors are narrow, my Pullman cabin – the smallest of three kinds available – barely bigger than the bathroom I have at home, and it does shake and rattle where the tracks need maintenance. But at the same time, it's so much more than a standard train! Beginning with the open-air observation cart at its far end, through the all wooden, elegant reading room further on, up until two restaurant carts and a full swing piano bar closer to the engine, it all screams bespoke luxury in the best of vintage styles.  And then the train jerks ahead and starts moving.  At first slowly, leaving Singapore metropolis behind, then faster, allowing those on board to enjoy the sensation of speed, best experienced with a glass of Champagne in hand, from the observation cart. With every minute and every kilometre, the surrounding landscape becomes more lush, rice paddies intermingle with rubber tree plantations, deep jungle at the forefront, dramatic hills in the distance; and as we travel further and further into this verdant south-east Asian scenery, my heart fills with the same excitement that helps me remember this first childhood train ride. Excitement that only railway travel can provide.
Only railway travel, because only on a train can you totally lose yourself in the experience of a journey. There's no need to navigate – the tracks and the train crew take care of this; no need to obsessively check your phone – the reception is scarce and for once, it's a good thing. All that's left to do is to sit back and enjoy the ride. Maybe a signature cocktail here and there – those on the menu are crafted by an inspired mixologist, their ingredients reflecting the stages of our journey; maybe a chapter of a book in the reading cart – my favorite on that ride was a sizeable volume on classic train travel; but the essence is the forward movement, the clackety-clack of wheels on tracks. It's as much transportation as it is meditation.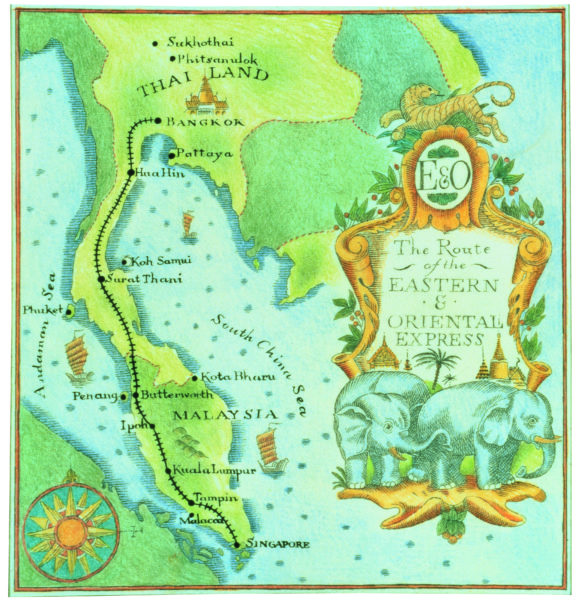 This meditative monotony is broken apart only by meals, and short sightseeing stops. There were two of these on my trip, one in Malaysia, to take a closer look at local architecture of a sultan's palace and a beautifully decorated mosque, and one in Thailand, to learn a tiny bit about the history of World War II as it happened in South East Asia. The stops, interesting as they were, had one added benefit, they allowed those on board to take a look at the train we were traveling on, set in all its glory against a picturesque scenery. A perfect photo op and a good reminder, that what felt like a stay in a five-star hotel, was actually a 1500 km train ride.
As for the meals, it seemed those were designed to make us forget we were on a train. Chef-prepared and served fresh from the on-board kitchen, they were of the exact same style and quality as one would expect from a fine dining restaurant, and a classic, vintage style restaurant at that. The glittering silverware, the crystal wine glasses, all there to build on the sentimental ambiance, their clinking sounds serving as the only reminder that we are on the move, those and the scenery swooshing past the windows. Two daily meals – lunch and dinner, come served in the dining carts, but for me the favourite part of the day came in the morning, at breakfast, and at 4 pm, in time for afternoon tea – both served in the cabin, in bed, for yet another touch of dashing luxury.
A luxury the passengers can indulge in, without compromising on the other aspects of travel – taking in the scenery, making new friends, getting to know local culture and simply moving from place to place. The lack of those elements is my biggest complaint when it comes to luxury hotels. Glorious as they are, they rarely allow me to truly experience the place I travel to. They want me to stay safely tucked away in their cocoon of luxury, dine in the in-house restaurant, swim in the hotel pool.  Or if I decide to go my own way, get out and explore, then I lose out on my magnificent hotel room, the excellent service, and the lavish ambiance.
The solution? I've known it for quite a while, since I was a child in fact. To make the most of your travel, travel by train. And if you can, don't make it just any train. Go on the Eastern & Oriental Express.
Find out more on belmond.com
Comments