– Words by Maciek Klimowicz – 
We eat with our… mouths, obviously. But tasting, chewing and swallowing are only the final acts in the parade of senses that is dining. And so, before you take the first bite, you should take a first look, especially if the food looks like the dishes presented on the following pages. Their creators, chefs at some of the best restaurants and hotels in the region, explored the depths of their creativity to turn those plates into nothing less than pieces of art. And it all tastes as good as it looks! Don't take our word for it, go on – try for yourself!
Banyan Tree Bangkok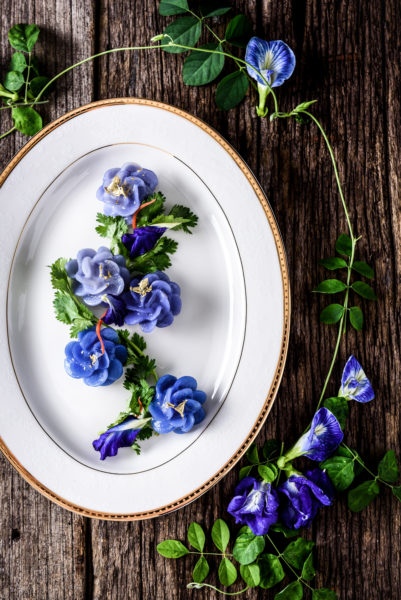 Steamed Thai Chicken Dumpling
Chef: Renu Homsombat
Chef Homsombat at Banyan Tree Bangkok takes dumplings – theses little pockets of savory joy – to a whole new level, with her steamed Thai chicken dumpling. Guaranteed, you haven't seen such perfect dumplings before – the butterfly pea petals used in the making of the dough give them a mesmerizing, blue color, turning your plate into an art piece, resembling a gorgeous flower arrangement.
Kata Rocks Phuket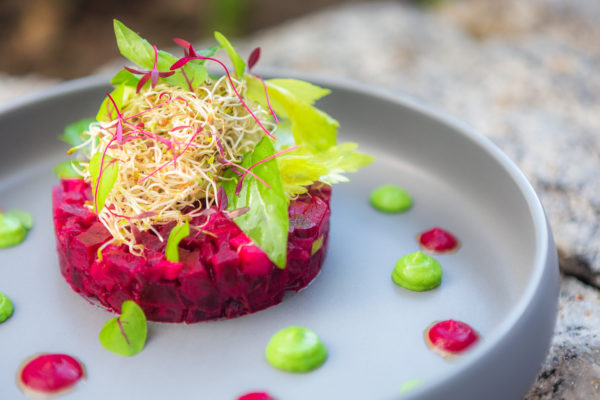 Beetroot And Green Apple Tartar
Chef: Laia Pons
You'll eat that one with your eyes! The colours of chef's Pons' beetroot tartare are so intense and pure, that they almost seem… unnatural. But fear not, all ingredients are 100% unadulterated, including the boiled beetroot, green apple, avocado, mustard dressing, lime and sprouts salad. This dish might turn you into a vegan just with its looks.
Hotel Muse Bangkok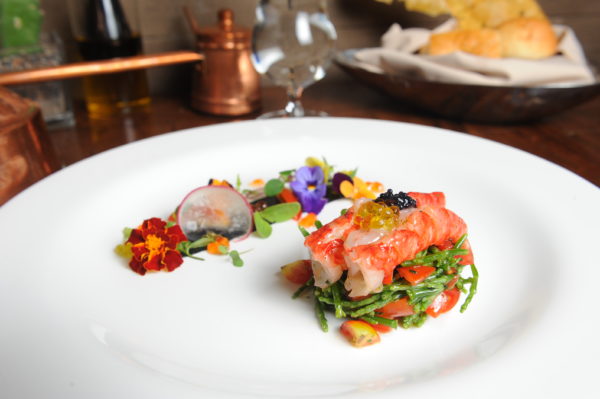 Raw Mediterranean Red Prawn
Chef: Nicolino Lalla
The presentation of chef's Nicolino Lalla raw Mediterranean red prawn plays on a balance between a dash of artistic chaos and multitude of colours set against the backdrop of a clean, white plate. The prawn is served on a bed of crisp, deep-green sea asparagus and garnished with a garden of roasted cherry tomatoes, micro herbs, salmon roe and olive oil pearls, evoking a refreshing, au naturel impression.
Four Season Hong Kong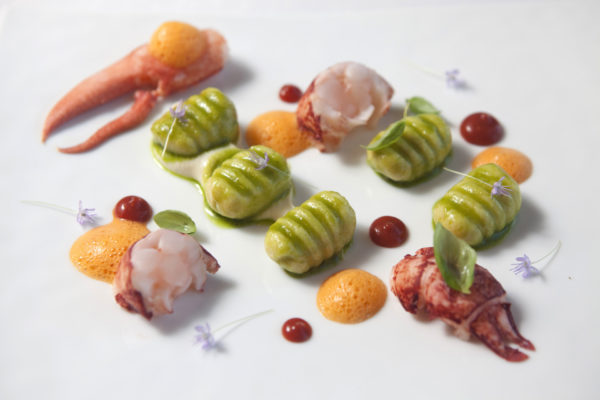 Potato And Basil Gnocchi, Breton Lobster, Cauliflower
Chef: Andrea Accordi
You will spend a while starring at this one, before digging in. Each element of the dish – the succulent gnocchi, large chunks of Breton lobster, splashes of foams and sauces, are spread out on a plate as if on a canvas. Nothing is accidental here, everything is planned and everything matches each other…even more so after you mess it up with your fork and take a bite.
Anantara Siam, Bangkok
White Truffle Delights
Chef: Nicolas Schneller
Truffles are famed first and foremost for their aroma, but at Anantara Siam they will satisfy not only your nose and palate but also… your eyes. Currently featured at the hotel's Biscotti restaurant is a White Truffle Delights menu, showcasing the celebrated mushrooms in all their glory, in dishes such as Tartar di Manzo –  a beef tartar with quail eggs and Alba truffle, along with other sumptuous seafood, pasta and meat dishes.
Hôtel des Arts Saigon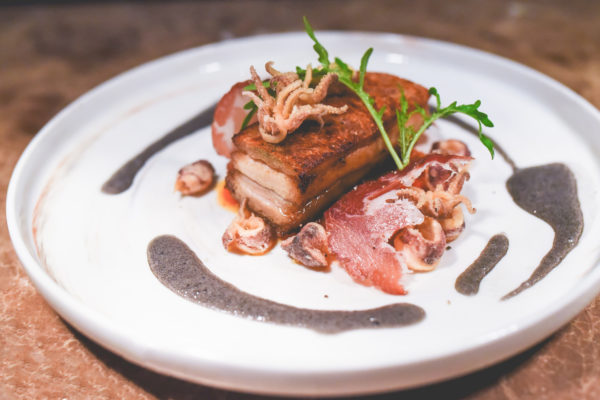 Crispy Pork Belly
Chef: Anne-Cécile Degenne
At Hôtel des Arts Saigon, the everlasting classic of crispy pork belly is turned into a thing of beauty. Set at the center of the plate is a wonderful cut of meat that speaks for itself with its glowing honeycomb-esque layer of crispy goodness and the juiciness of the inside. Swooshes of squid ink sauce and baby calamari set on top complete this work of culinary art.
Fusion Maia Da Nang
Scented Veggie Garden
Chef: Van Dung
Welcome to the garden! Chef's Van Dung's Scented Veggie Garden features delicate sweet potato mash scented with orange and vanilla pods, topped with fresh seasonal young vegetables and spring onion bulbs fresh from our organic garden, then sprinkled with pumpkin seeds and puffed superfood – quinoa. It's packed with vitamins and mineral as much as it is with flavour and aesthetic appeal.
Le Meridien Saigon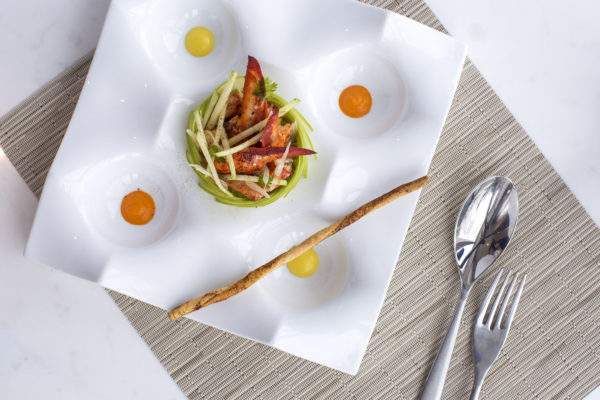 Lobster Salad
Chef: Frederic Meynard
Chef Meynard uses a special, designer plate to present his lobster salad in all its glory, with a selection of dressings sitting snuggly in the plate's dedicated grooves. The salad itself is composed of succulent lobster, acidulated apple, avocado, daikon with fresh coriander and pomelo. It tastes heavenly, smiles of green apple and coriander and looks straight out of modern art gallery.
Intercontinental Baan Taling Ngam, Samui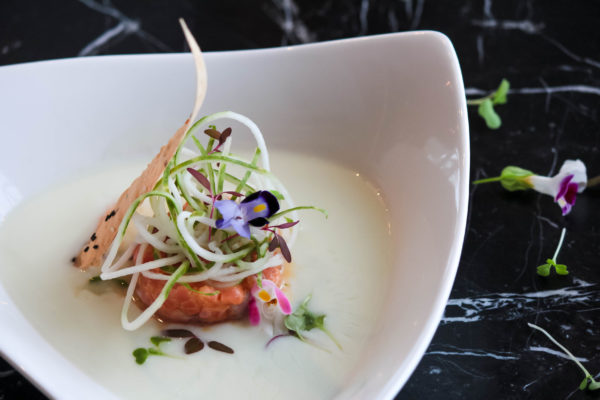 Salmon Ceviche with Cucumber
Chef: Gilbert Negro
The airy texture of chef's Negro salmon ceviche is also expressed in its lightweight presentation. The dish looks as if it was floating on the plate, delicate and sophisticated. To make it, Atlantic salmon is quickly imbued with Makrut lime, passion fruit, chili, lemongrass, green apple and cucumber, forming a refreshing blend that's pleasing both to the palate and the eye.
W Retreat Koh Samui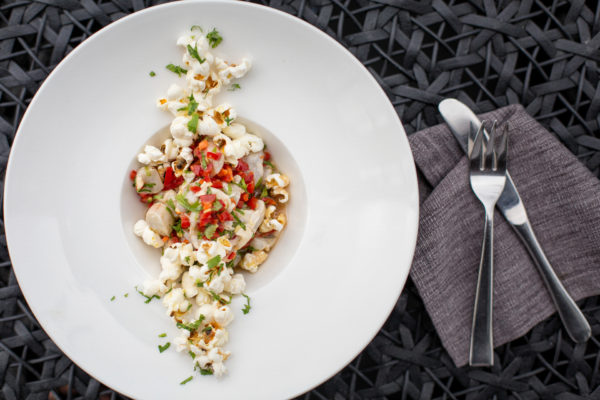 Asian Style Prawn Ceviche With Popcorn
Chef: Garth Welsh
W Koh Samui's takes on the classic Latin American ceviche, replacing raw fish with prawns cured in Thai lime and chili, and served with coriander, tomato, red onion, salt and topped with… freshly popped popcorn for a texture contrast. Contrast is also what leads the visual side, with reds and greens performing beautifully on the backdrop of white popcorn and plate.
Naman Retreat, Da Nang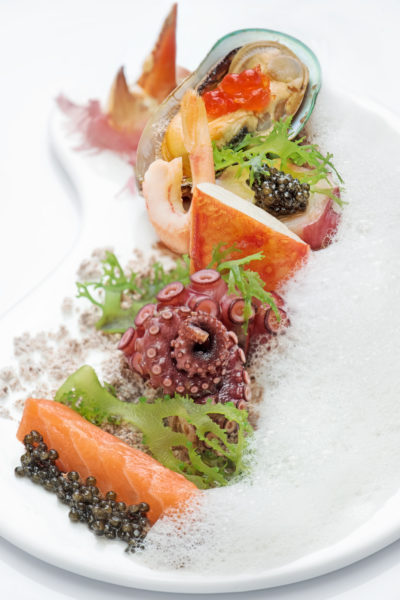 Seafood On Sand
Chef: Nguyen Quoc Hoang
The underwater universe provides endless inspiration to painters, sculptures and…  Chefs. In chef's Nguyen Quoc Hoang's Seafood on Sand, pieces of octopus, salmon and lobster are served with shrimps, caviar and urchin, decorated with celery foam. The "sand" is edible and made from seaweed, miso oil, rock salt and Iriko – Japanese anchovy. It looks oceantastic!
Iniala Beach House, Phuket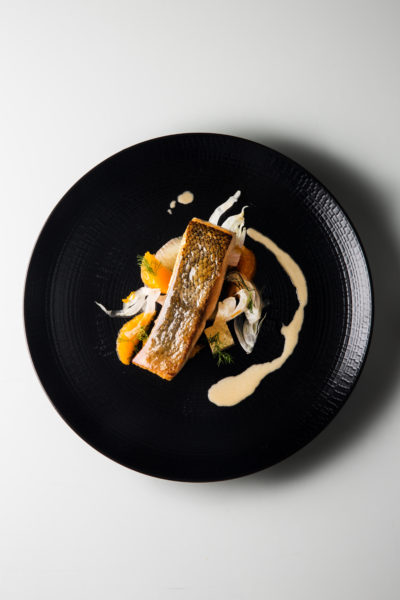 Line-caught White King Salmon
Chef: Tim Butler
The immersive dining experience at Esenzi – a recently opened globally influenced seafood restaurant located at the super-exclusive Iniala Beach House just north of Phuket, begins with a dish served by the beach. But this line-caught white king salmon with negroni nage, grapefruit and pink peppercorn, is served indoors, so you can not only enjoy the way it tastes but also the way it looks. And it looks alluring, doesn't it?
Comments