By Matt Clemens
Colours have flavours. Lime green can be as fresh as a freshly squeezed… well, lime; bright orange possesses the intensity and complexity of an authentic Indian masala while scarlet is a good indication of spiciness level not for the fainthearted, or in case of fruits – ripe sweetness. Good chefs are well aware of the colour-flavour connotation and use it to their advantage. Flip through the next few pages for some examples of dishes, which use color as an ingredient.
The Siam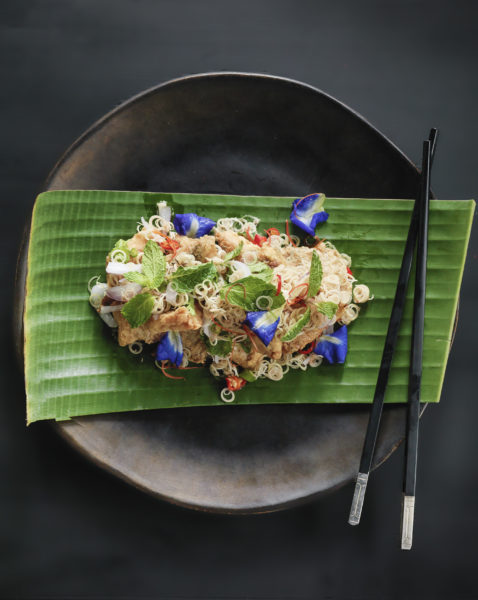 Yum Takrai Pla Kraphong Thord
Chef: Damri Muksombat
The perfect balance and freshness of flavours is what makes Thai cuisine favourite for so many people around the world. Chef Damri Muksombat's spicy deep-fried seabass embodies those features, not just with flavours but also with presentation. The flavourful fish is served with lemongrass salad, shallots and mint leaves and decorated with butterfly pea flowers for a touch of blue on green backdrop.
Park Hyatt Saigon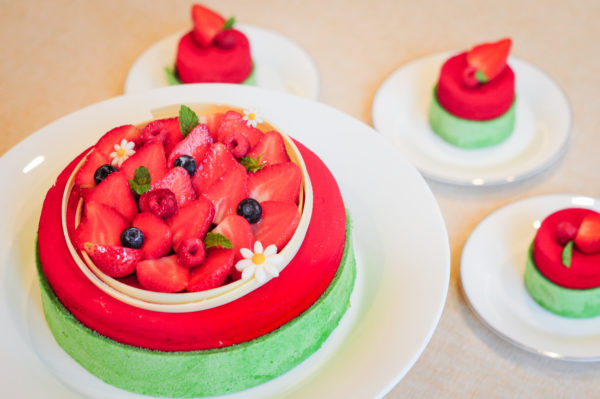 Strawberry Fraisier
Chef: Kim Narae
This classic French pâtisserie receives a technicolor treatment at Park Hyatt Saigon and to a stunning effect. It's made with all the traditional ingredients – vanilla mousse, soft genoise sponge base, and fresh strawberries – but thanks to chef Kim Narae's eye for colour, it jumps of the plate leaving those at the table charmed. Try not to have at least one bite.
Thanyapura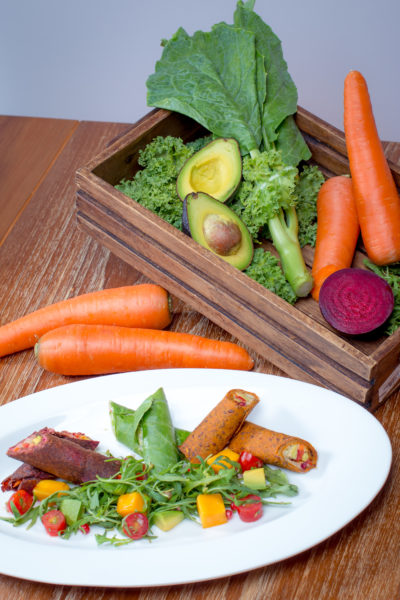 Beetroot, Carrot And Broccoli Hummus Wraps
Chef: Udomsak Boonsopone
If you're still stuck in the ancient mindset which tells you that eating vegetarian means eating green, it's time to open your eyes. A good place to start is with those hummus wraps with beetroot, carrot, broccoli, almond, avocado, capsicum, cucumber and rocket salad. All colours of the spectrum are represented here and they are just as flavourful as they are colourful.
Angsana Laguna Phuket, Bodega & Grill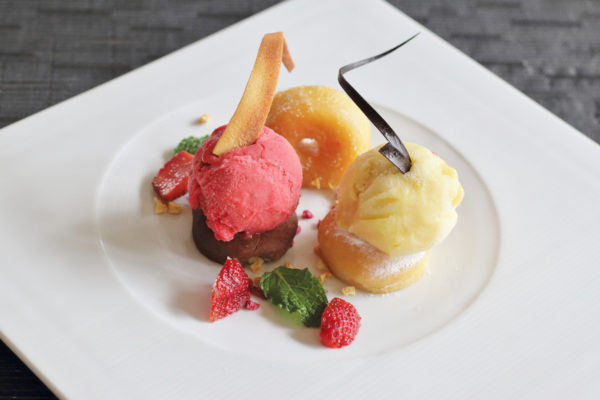 Sorbet & Donut
Chef: Jonathan Bruelle
Life is short so eat dessert first. Or last. Or whatever. Just eat it. And when you have it, make the most of it. Chef Jonathan Bruelle at Angsana Laguna Phuket's Bodega & Grill pulled no punches when coming up with the Sorbet & Donut combination. The bright neon pink and yellow shades of the ice cream on the backdrop of golden donut dough are a promise of sweet wonder. And this promise is kept.
Four Seasons Chiang Mai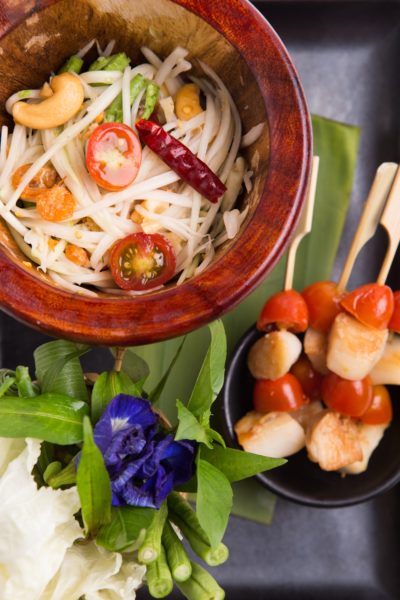 Som Tum
Chef : Anchalee Luadkham
This classic Som Tum papaya salad is as flavourful and refreshing as the one you find in street side eateries across Thailand. But before you dig in, take a look. The light green shade of shredded young papaya provides a backdrop for the bright red colour accents of cherry tomatoes and sangria red of dried chilies. And it tastes just the way it looks – honesty, simple and utterly satisfying.
Four Seasons Hong Kong, The Lounge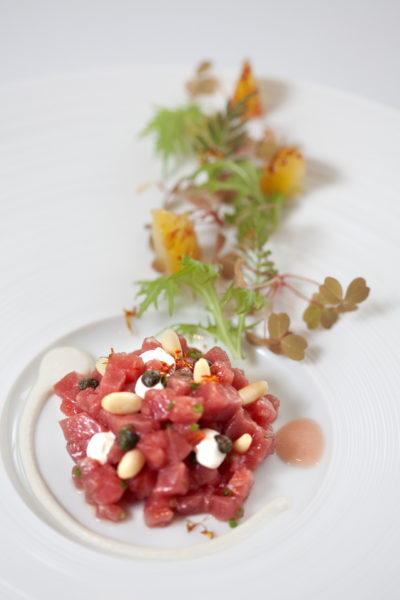 Chilled Bluefin Tuna Tartar
Chef: Andrea Accordi
Classic plates are white for a reason. Just like a painters' canvas, they are there to provide a surface for the artist to express himself. Chef Andrea Accordi does just that with his chilled Bluefin Tuna tartar served with tangerine, pine nuts, and wasabi and topped with Kaluga or Baikal caviar. The intense red dot of fresh tuna meat simply jumps of the white artisan plate feeding your eyes before you even take the first bite.
Kata Rocks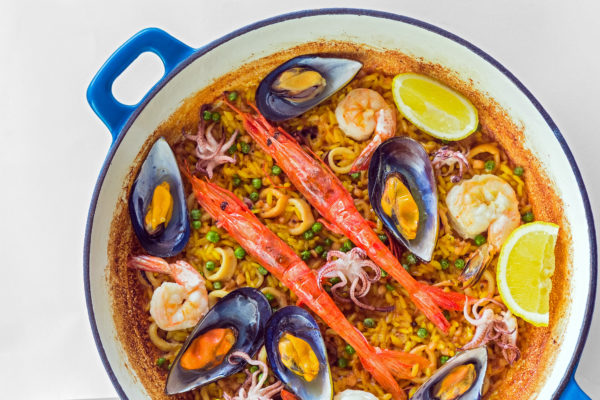 Barceloneta Seafood Rice
Chef: Laia Pons
With her Barceloneta Seafood Rice, Chef Laia Pons of Phuket's Kata Rocks pays homage to the seafood scene of Barcelona. One look at this dish is enough to take your imagination for a tour of the city's fresh markets. All colours of the rainbow are present here with dominant tangerine so intense, that you can smell it!
The Mira Hong Kong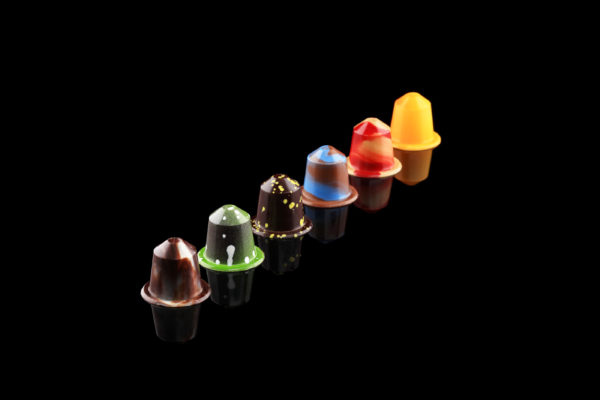 Colourful Chocolate Capsules
Chef: Jean-Marc Gaucher
How to make the wonder of chocolate even more wonderful? Add a splash of colour! That's exactly what chef Jean-Marc Gaucher did with his Colourful Chocolate Capsules. They come in a range of flavours, each dashed with a jolt of matching pigment. They range from refreshing yuzu and orange paired with praline filling in 40% Vietnamese white chocolate shell in "Yuzu Citrus Sunset" to a Vietnamese 64% dark chocolate with smoky flavor of Lapsang Souchong tea and a twist of nori in "Smoky Tea".
The Peninsula Hong Kong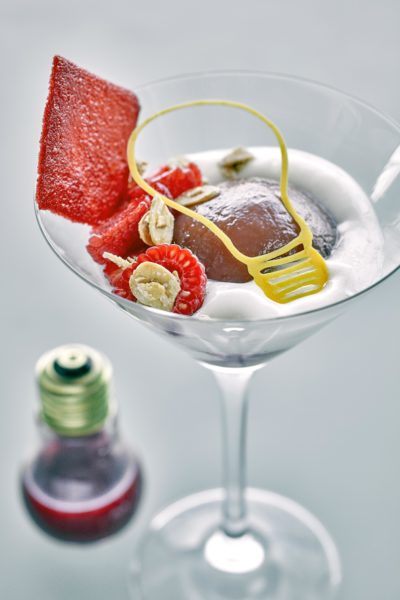 Peach Melba
Chef: Yoshiharu Kaji
Originally dreamed up in 1892 by chef Georges Auguste Escoffier as a tribute to Australian soprano Nellie Melba, this classic dessert is revived by chef Yoshiharu Kaji with depth of flavour, spectacular presentation and a dash of colour. Made with peach compote, almond mousse and vanilla ice cream, it comes decorated with a yellow light bulb chip and serving of raspberry sauce in a light bulb shaped container.
Comments