– Words by Matt Clemens and Photos by Neil Massey – 
Everybody likes chocolate. Some might even love it. And then, every once in a while, someone with a true passion for the world's favorite guilty pleasure shows up. If it so happens, that such two people bump into each other, amazingly sweet things start to happen.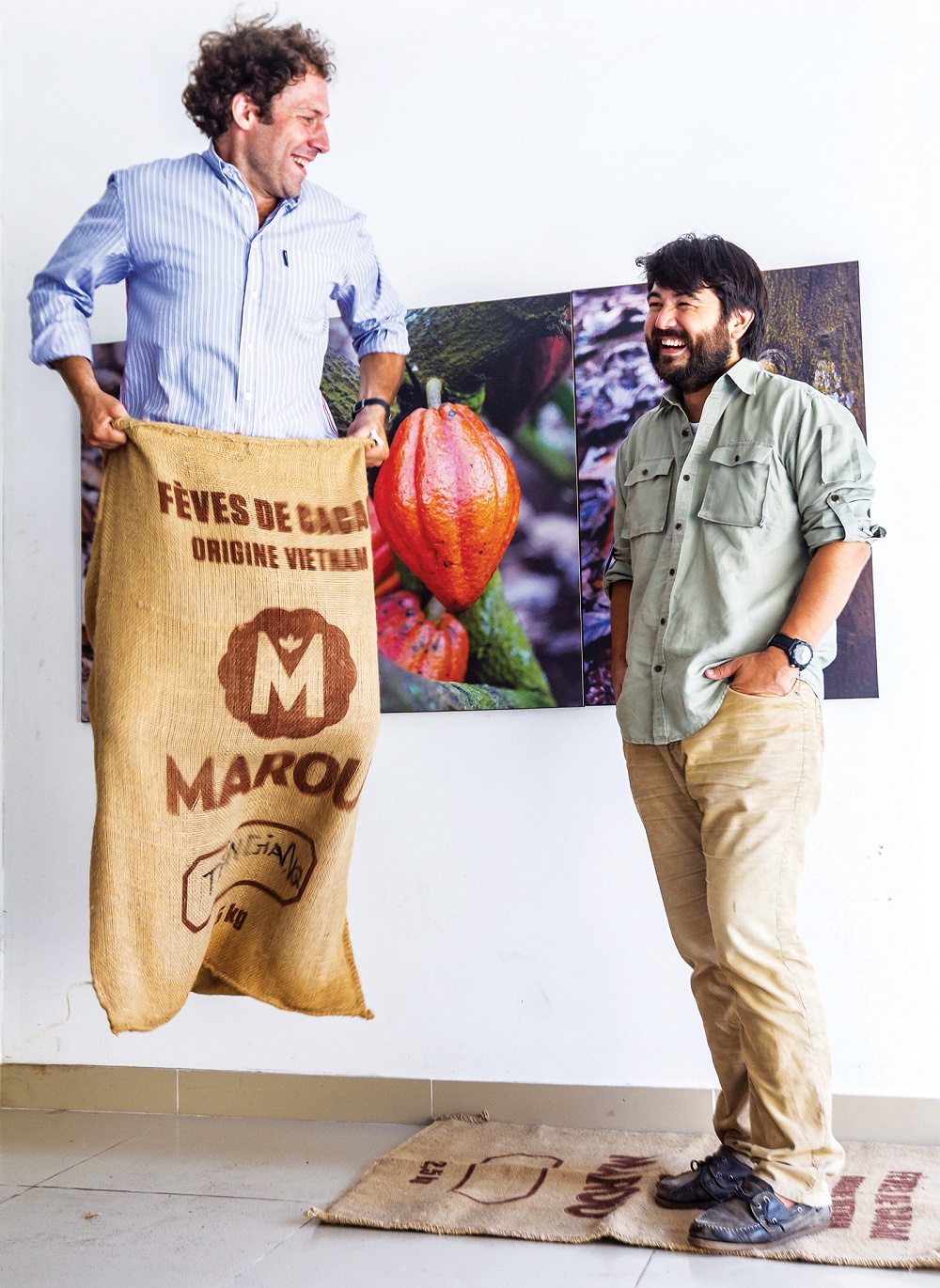 When Samuel Maruta bumped into Vincent Mourou in 2010, during a weekend in the jungle of Southern Vietnam, they quickly discovered they share a common goal, a common passion. No, not yet for chocolate but rather for a life lived on their own terms. One was coming from an advertising background, the other from the world of finances, and both were looking for change. It came in the form of a divine bean.
Yes, you've read it right – divine. Cocoa bean is the fruit of a South American Theobroma tree, whose name translates to "The food of the Gods." It takes one such tree between 3 and 5 years to mature and start bearing fruit and once it does, it produces around 1,000 beans a year. A lot? It's only enough to make approximately 1 kg of chocolate.
With its 5,000 tons of cocoa beans produced each year, Vietnam is a dwarf in the global cocoa industry, making up just 1/1000 of the world's production. It might have something to do with cocoa's relatively short history in the country – while the bean has been already popular in the pre-Columbian civilizations of the Aztecs and the Mayans, they started to be introduced in Vietnam only at the end of the XIX century. Today much of it is still grown on tiny family-owned land plots of the Vietnamese farmers.
It was on one such small farm that Maruta and Mourou found their first 2 kg of cocoa beans and decided to try and turn it into chocolate. They combined multimedia (Google and YouTube videos) with cutting edge technology (oven and food processor) to create their first batch of chocolate paste. Yes, it was crude and unrefined, but boy did it smell good!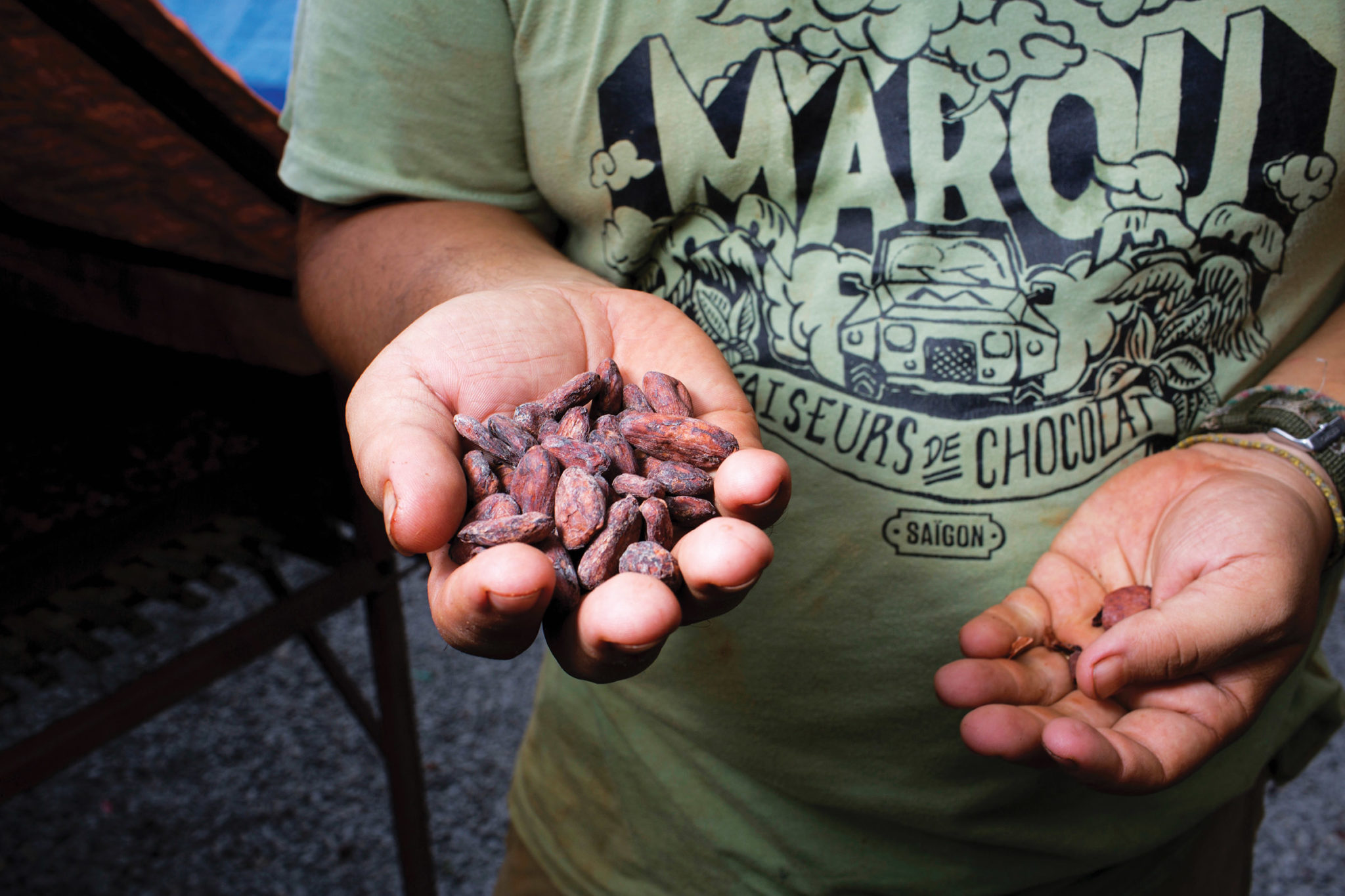 Much has changed in between this first trial and what Marou has become today – a recognized producer of artisan
chocolate representing a selection of Vietnamese terroirs such as the fruity Ba Ria (76% cocoa), spicy Dong Nai (72%) and floral Tien Giang (70%). But despite its commercial success – Marou chocolate is distributed in some of the most prestigious locations in Vietnam, including Hanoi's Sofitel Legend Metropole as well as in more than 25 other countries around the world – and numerous awards for their efforts, including a prize from the London Academy of Chocolate, BBC Good Food Award and a Gold medal at the International Chocolate Awards, Marou has remained true to their philosophy of "From the beans to the bar".
This is how they explain it themselves: "The fundamental difference between what we do and the work of other chocolate producers is that we procure our cocoa beans ourselves, by going directly to the farmers in the neighboring provinces. Our first and most essential task is to select the best beans from our 20 farmers. We don't let anyone do this for us. Every week we travel from one farm to another to test the flavor of the cocoa beans, bag by bag."
"With these farmers, we created a strong relationship based on trust and we pay them a very good price for their effort, much higher than the market price," they add.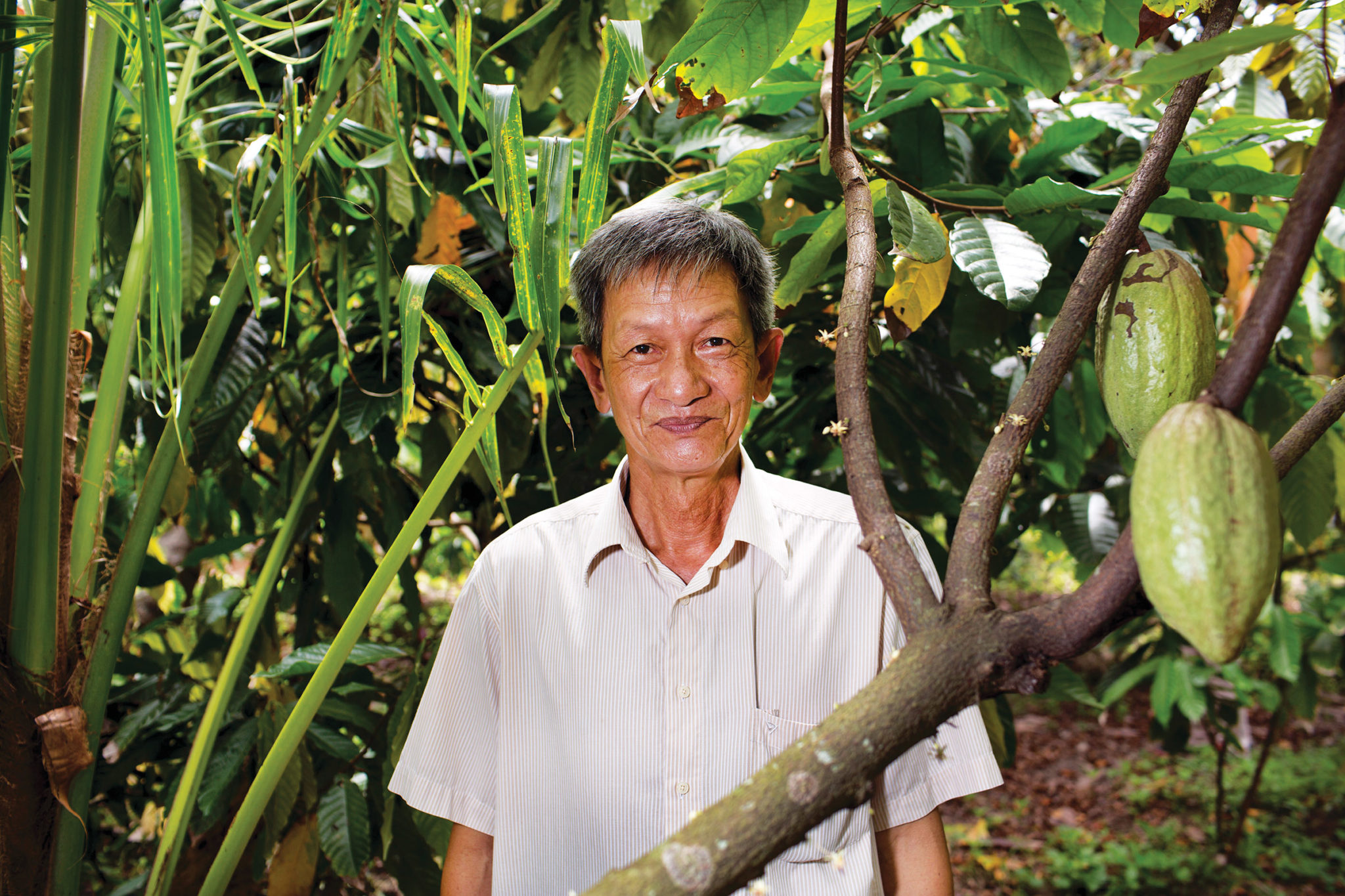 Apart from the attention to the quality of the beans and care for the farmers' wellbeing, Marou adds one more ingredient to the mix – respect for the environment.
At the beginning of 2015, they launched a special initiative in collaboration with the owners of a forest concession of 400 hectares. Instead of clearing all the trees and replacing them with an intensive monoculture of cocoa, they aim to grow 2,500 cocoa trees in the existing natural forest. Initially planned for just 5 hectares, if proven successful, the project will expand to a bigger area preserving the natural habitat of the forest's fauna and flora.
But let's get back to the chocolate. Once the beans are harvested and selected, what follows is a meticulous process of fermenting and drying, mixing and blending, with a personal touch each and every step of the way. The result? The first chocolate made entirely in Vietnam, from the beans to the bar, with local ingredients of the highest quality.
However these are all just words. A real test takes place when you slip a piece of Marou chocolate in your mouth. That's when words fail, senses explode and you're transported to a different, better place. It's the fruit of passion that tastes so sweet.
For more information visit marouchocolate.com
Comments