Original text by Catherine Vanesse
Translation by Vincent Sung
Pad Thai, one of the most famous Thai dishes in the world, functions as a true national emblem since the '40s. But the dish that became synonymous with Thai cuisine, isn't exactly Thai!
Pad Thaï (ผัดไทย), is the Thai dish best known overseas, but also one of the basic dishes in Thailand. In air-conditioned restaurants or on street stalls, it is almost invariably part of the menu.
Some trace its origin back to the kingdom of Ayutthaya (1351-1767) and a dish called Pho Xao, fried noodles with beef and vegetables, imported to the kingdom by Vietnamese traders. Others speculate on its Chinese origins because of its ingredients: noodles, eggs, yellow tofu, soya shoots, dried shrimps. But the story of Pad Thai is much shorter. In fact, it has existed under this name since only the 1940s alone.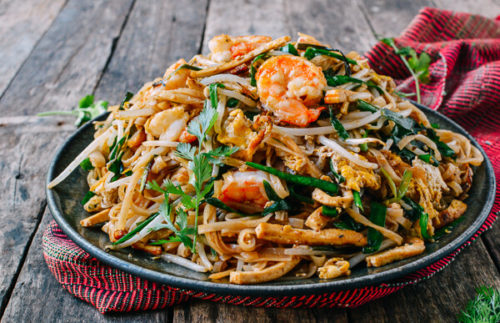 In 1938, Phibun Songkhram, then Prime Minister of Thailand, launched a major campaign to modernize the country while setting up a regime inspired by European fascism, based on ultra-nationalist propaganda. With the Second World War and the years following it, the economic crisis affected Thailand in full force. As Thailand was one of the largest rice exporters, the government intended to fill the gap by exporting more rice, but it was also necessary to feed the starving population. Following a desire strengthen nationalistic sentiments in the population and promote what Phibun Songkhram called "Thainess", he incited Thai people to eat rice noodles instead of rice. He distributed the recipe all over the country and changed the name of "Kiaw Tiao" (noodle) to Pad Thai, which can be translated literally by Thai fried noodle.
Today, it is impossible to list the number of restaurants serving it, as well as to count the numerous variations of this national dish. But while the dish is very simple, it is not always easy to find a "good" Pad Thai. Probably best is to try Pad Thai offered by street vendors; served with chicken or shrimps, it sells for 30 to 50 baht for one portion and usually has enough stamina to blow your taste buds away. But if you care to explore more, and search out some true Pad Thai gems, here are some places worth checking out.

Baan Phad thai, traditional chic
"Baan Phad Thai" is a flagship address for enjoying delicious and inexpensive Pad Thais. This newcomer restaurant is located near the Chao Phraya River and opened its doors just a few months ago. It offers a pleasant setting in which to enjoy quality cuisine.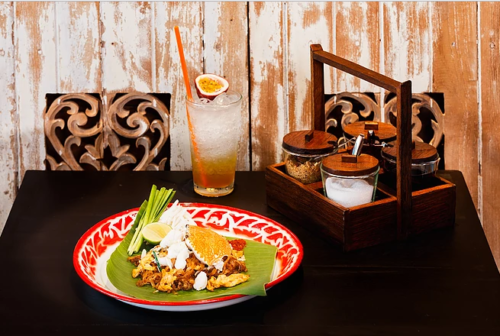 Just like the Issaya restaurant, owned by the same partners, "Baan Phadthaï" is a finely decorated place in which you feel quickly at ease. The turquoise color of the walls and the rough wooden doors that adorn them, give the restaurant a seaside feel that drifts away the stifling heat of Bangkok.
The chic old town atmosphere of this address attracts both tourists and locals eager to taste simple cuisine based on quality products. The menu is not overloaded, and what matters most, it offers five different Pad Thais. The dishes are well mastered, copious and well presented.
Address: 21-23 Charoen Krung, Soi 44 Alley, North Sathorn, Bangkok, 10500
Tel: 02 060 5553
Opening hours: 11h-22h
Price ranges: starts at 180 baht

Thip Samai, the oldest address in Bangkok

At Thip Samai you can only have one dish: Pad Thai. A true institution for Thais, a star of travel guides and a stone's throw away from the famous Khao San Road, Thip Samai has been serving Pad Thai to customers for over 50 years. This restaurant is packed from the opening at 5 pm and sometimes it takes lots of patience to be able to sit at a table. For good reasons; a truly delicious Pad Thai nicely rolled into an omelet; visual and palatial pleasures assured!
Address: 313 Mahachai Road, Samranrat, Phra Nakorn 10200
Tel: 02 221 6280
Opening hours: 5pm – 3am
Price range: from 70 baht for a classic vegetarian Pad Thai

Namsaah Bottling Trust, the most French Pad Thai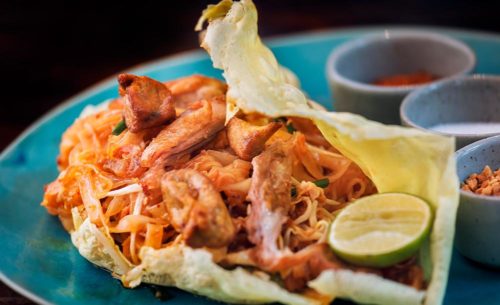 At Namsaah Bottling Trust, they don't like to talk about fusion cuisine, but rather about creativity, which becomes expressed here with audacity in a classic revisited –  Pad Thai with… foie gras! Does it work? Try for yourself!
Address: 401 Silom Soi 7, Silom Road, Bangrak Bangkok, Thailand
Tel: 02 636 6622
www.namsaah.com
Opening hours: 5pm – 2am
Price range: 450 baht for Pad Thai with goose liver
Comments